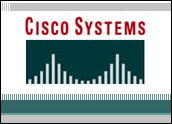 Cisco's first-quarter revenue rose 17 percent and profit jumped 37 percent, but the networking gear maker's shares took a beating after it failed to provide a more upbeat forecast.
The company earned US$2.21 billion, or 35 cents per share, for its first quarter, and revenue climbed to $9.55 billion. Those results were roughly in line with analyst expectations, as was Cisco's outlook for the current quarter, which called for a 16 percent increase in revenue to $9.79 billion.
Despite the positive results, however, investors pounded Cisco shares, sending them down by more than 8 percent in morning trading Thursday to $30.16. The stock had risen some 30 percent since April and was trading earlier this week at a six-year high.
The Credit Crisis
Cisco became at least the second major tech bellwether to cite the commercial credit crisis and economic weakness in key sectors as factors in its results and outlook.
Last month, IBM said some of its financial services customers — key consumers of its mainframe computing systems — had decreased spending as a result of the lending crisis, which has forced many large banks to write off billions of dollars of losses tied to subprime mortgages.
Many U.S. companies have "squeezed" information technology spending in recent months, said Cisco CEO John Chambers.
Cisco saw a drop in the growth rate of sales to its 25 largest U.S. customers, including two automakers and eight companies in the financial services sector, the company said.
Looking for More
Investors may have been expecting Cisco to do more than meet targets, since the company has exceeded forecasts in four of the past five quarters. While there are questions about the health of the U.S. economy, meanwhile, Cisco has invested heavily to tap into new opportunities overseas, recently announcing it would double its investment in China in the next five years to around $16 billion.
There were signs that targeting emerging markets is paying off, with Cisco reporting a 35 percent increase in developing countries such as Serbia and Turkey. Still, North America makes up 55 percent of the company's total revenue.
The growth in overseas markets may be enough to offset some weakness in the North American markets, at least for a short time, RBC Capital Markets analyst Mark Sue told the E-Commerce Times.
"Even with that balance from overseas, there may be a time when Cisco's key customers are a little more conservative," Sue said.
The gear maker has also invested heavily to be a player in the building of the infrastructure needed to support social media and other Web 2.0 innovations.
"We believe the migration to the second phase of the Internet and the proliferation of networked Web 2.0 technologies will help drive dramatic gains in productivity and innovation across all industries," Chambers said. "If this market transition continues to unfold as we expect, it has the potential to power Cisco's and the industry's growth for many years to come."
Still Buying
Cisco's strategy has long been to expand its reach through acquisitions. Its buy of set-top box maker Scientific-Atlanta has put it in a position to offer end-to-end video solutions to cable and telephone companies as well as Internet companies. Its purchase of Linksys has helped make it a major player in home and small office networking as well.
During the first quarter, Cisco announced plans to make three more acquisitions, including mobile WiMax player Navini Networks, and said it plans to use it as part of a larger portfolio of broadband offerings aimed at emerging markets. Cisco also bought two smaller firms.
More recently, it has begun to use targeting partnerships to help expand its footprint as well. In the first quarter, it announced an alliance with Microsoft to develop more interoperable products, and said its WebEx collaboration platform would be able to deliver Oracle's Siebel CRM OnDemand service.
"In a lot of ways, the market has moved toward Cisco," Gartner analyst John Pescatore told the E-Commerce Times. More enterprises want networks that emulate the Internet, with the ability to handle voice, data and video.
The rise of real-time collaboration and the need to secure networks from Internet-borne threats have also prompted enterprises and increasingly, telecommunications companies, to turn to Cisco more often, he added.
Cisco continues to spend not only on acquisitions but also on its own stock. It spent $3 billion to buy back shares in the first quarter and has authorization to spend $5.8 billion more on the repurchase program, the company said.