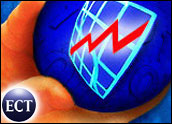 Cisco Systems (Nasdaq: CSCO) rose 82 U.S. cents to $20.07 in morning trading Tuesday, after Morgan Stanley Dean Witter raised its rating on the router maker's stock ahead of the company's quarterly financial report, due out after the day's close of trading.
Morgan analyst Christopher Stix upgraded Cisco to outperform from neutral, citing "increased confidence" in the company's enterprise business, among other things.
Stix said the upgrade is "not a call on the quarter," adding that he expects Cisco's results for the fiscal fourth quarter to be in line with expectations. Stix expects Cisco to earn 1 to 3 cents per share on revenue of $4.7 billion for the fourth quarter just ended, and to leave its guidance for the first quarter unchanged.
Cisco management has said first-quarter revenue will be flat to down 10 percent sequentially, and "given what we are hearing about demand, we are inclined to move to the top end of this range," said Stix.
Stix put a 12-month price target of $25 on Cisco.
"By the time you see Cisco's fundamentals recover, the stock will already have rebounded," he wrote in a research note to investors.
Announcements last week of deals with Global Crossing and China Telecom show "the company is beginning to regain momentum in the core router business," wrote Stix. "In our view, Cisco can stabilize this business over the next several quarters."
Cisco shares rose Monday after the company announced the China Telecom agreement, which calls for Cisco to provide the Chinese telecommunications company with more than 500 high-speed Internet routers to help it build an "information highway stretching across China." Financial terms were not disclosed.