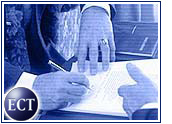 Cisco (Nasdaq: CSCO) rose 22 U.S. cents to $19.35 in morning trading Thursday, following news of an expanded agreement with AOL Time Warner (NYSE: AOL).
AOL was up 78 cents at $52.78.
The companies said the deal allows AOL Time Warner to double the capacity and coverage of its AOL Transit Data Network by adding new Internet routers. Financial terms of the deal were not disclosed.
The companies said they will also continue to collaborate on developing new products and services for consumers.
The news, along with reports of a rate cut in Europe that fueled a rise in the overall stock market, helped Cisco shares recover from a Wednesday beating. Cisco fell 6.3 percent Wednesday, a day after reporting a $2.69 billion loss for the fourth quarter ended in April.
The networking giant said a slow economy caused customers to cut back on spending, resulting in a drop in revenue for the quarter. Results were also hurt by charges for layoffs and other cost-cutting moves.
The Thursday agreement builds on an existing relationship between the two companies. Cisco already provides technology products and services to AOL Time Warner divisions including America Online and Time Warner Cable, and has marketing relationships with the media company's print and cable divisions, including Time and Turner Broadcasting.
"Cisco has been a leading partner for core IP technology for years," said AOL Time Warner co-chief operating officer Bob Pittman. "We're pleased to enhance that relationship with expanded marketing opportunities across our unmatched online, print and broadcast properties."
Cisco vice president for corporate marketing Keith Fox said the new agreement will allow his company to "better meet [its] range of advertising, sponsorship and marketing needs."