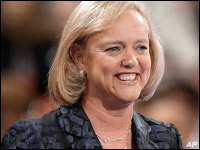 HP CEO Leo Apotheker is on the way out, and the company is close to naming the former chief executive of eBay, Meg Whitman, as its new CEO, said sources speaking to Reuters. The decision to make Whitman the full-fledged CEO of the company — rather than appointing her to serve in an interim capacity — reportedly will be announced after the markets close Thursday.
Whitman helped to grow eBay into the e-commerce giant it is today. Still, HP could prove tough to manage. It is the largest technology company in North America, with annual revenue of more than US$100 billion.
Having recently joined HP's board, Whitman should be educated about its problems and strategies. Also, her experience at Disney, Hasbro, and Procter & Gamble suggests she could bring valuable knowledge of branding to the table. eBay has given Whitman a good amount of software experience, but she has no experience with hardware.
HP's board met on Thursday to discuss a multitude of issues plaguing the company. Apotheker has been CEO for less than a year, but he has struggled unsuccessfully to halt a 50 percent dive in HP's share price.
Nonetheless, aside from the change at the top, the board is not planning on making any major strategy shifts, the Reuters sources said.
HP declined the E-Commerce Times' request to comment for this story.
The Board Knows Meg
In choosing Meg Whitman, HP will be tagging one of its own.
"The familiarity factor probably influenced the board decision to go with her," Azita Arvani, principal of the Arvani Group, told the E-Commerce Times. "She had witnessed the trials and tribulations with the current CEO."
Whitman has already proved that she can lead a large company through a tremendous growth trajectory, Arvani noted.
"She is a great communicator, and brings a lot of energy to her endeavors," she said. "All of these will be pluses if she takes on the CEO role at HP."
The big unanswered question is whether Whitman has what it takes to successfully command a technology powerhouse. eBay is effectively a classified ad company, not a major tech brand. Its customers are more like flea market operators.
HP operates at the high end of the corporate market, where Whitman's expertise is unproven, according to Arvani. "She doesn't have experience running hardware products, nor enterprise solutions and services."
Another challenge for Whitman will be solving HP's current problems. With eBay, she managed to achieve stellar growth, but "turnaround is a different beast than growing a startup to grand heights," Arvani pointed out.
"So, she will be paving new ground there," she said. "Moreover, she is yet another outsider that is trying to fix HP. That is probably not a big morale boost to HP employees."
Big Challenges, Big Payoff
Whitman may seem an odd choice to some — unless, she shows promise in managing new areas of growth for HP.
"I'm not sure why the board would choose Meg Whitman, but the first place to look is always at those who ran successful companies," said Jim McGregor, chief technology strategist at In-Stat.
"Companies often look for leaders from segments they want their company to succeed in," he told the E-Commerce Times.
Whitman will walk into a hornet's nest at HP.
"I would view it as a highly contentious situation," said McGregor. "You are following two CEOs — one that was highly successful and one that was not, and each one had a different vision for the company."
The challenges for Meg Whitman will be great. The payoff could be great as well.
"For Whitman, she will get money, prestige and recognition, especially with an industry leader like HP," said McGregor. "The company faces many challenges ahead, and they may not be able to stay on the top of the heap even if they do everything right."
Odd Choice?
HP is a completely different beast than eBay, and running the company could require a completely different set of skills than those Whitman has honed over the years.
"If Meg Whitman were to become CEO, I really think it's a suspect decision," said Zeus Kerravala, senior vice president of global enterprise and consumer research at the Yankee Group.
"I'm guessing that it's Whitman's history of growing eBay from startup to giant, but that's an entirely different skill set," he told the E-Commerce Times. "Running HP requires someone with enterprise experience and vision. Whitman appears to have neither."
This choice could partially be based on name recognition, Kerravala acknowledged, but overall, it's too risky.
"I don't understand the choice," he said. "The risk is that HP goes from bad to worse. I think that's a real risk here."