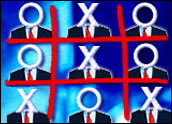 2011: The Year to Date, Part 1
In contrast to Apple's stunning success, the first calendar quarter of 2011 was a revolving door for other Silicon Valley companies and executives. There were management shifts, shakeups and ousters at AMD, Google, HP and Microsoft. They were variously aimed at jump-starting product momentum (AMD, Microsoft), polishing a tarnished image and placating stockholders (HP) and providing an orderly transition of power (Google).
You need a scorecard to keep up with all the comings and goings.
In and Out
AMD's board ousted chief executive Dirk Meyer in mid-January after only 18 months on the job. It then appointed Senior Vice President and CFO Thomas Seifert as interim CEO, while the search goes on for a permanent chief executive. Seifert continues as chief financial officer and says he does not want to be considered for the permanent CEO position. This is probably a smart move. AMD's flamboyant cofounder Jerry Sanders spent 33 years as CEO (1969 to 2002), but everyone who's followed has had a short tenure.
The challenge for any AMD chief executive is to jump-start momentum and somehow find a way to gain ground not only on perennial logic chip front-runner Intel, but also Nvidia, which dominates the mobile (Tegra 2) and graphics chip market.
AMD's Opteron dual- and quad-core processors and the mobile and graphic chips it acquired in its 2006 purchase of ATI are all solid offerings. However, AMD's former CEO Hector Ruiz and Meyer elected to focus on optimizing their chips for traditional notebooks instead of the lightweight mobile devices and tablets that are stars in today's markets. According to statistics published by International Data Corp., Intel's share of the PC and server chip market is approximately 81 percent compared with AMD's 19 percent.
AMD continues to shuffle its executive ranks. In February, two senior executives also resigned: Bob Rivet, executive vice president and chief operations and administrative officer; and Marty Seyer, senior vice president of corporate strategy. In late March, the company named former HP executive Mike Wolfe as its new chief information officer. Prior to joining AMD, Wolfe served as vice president of information technology for product development and engineering at HP. Wolfe is now responsible for managing AMD's global technology infrastructure.
Ironically, AMD's former CIO Ahmed Mahmoud, who departed in 2010, went to HP, where he is currently the senior vice president of the global information technology group.
Still Hurting from Hurd Scandal
HP has also had its share of executive shakeups in 2011. All of them stem from the continuing fallout from former CEO Mark Hurd's exit last summer. The reverberations have tainted the company's once pristine image, and they are as toxic to HP as the radiation leaking from Japan's Fukushima nuclear power plant.
Hurd left under a cloud of scandal amid charges of sexual harassment and dodgy expense accounting related to an undefined but inappropriate relationship with a female contract employee. A scant week after Hurd's departure, which included a platinum severance package worth US$44 million — a group of HP shareholders filed suit, alleging that HP board members are guilty of "gross mismanagement and waste of corporate assets."
They claim the board put the shareholders' finances at risk by failing to disclose the charges of sexual harassment against Hurd. It sounds reasonable. What's particularly galling to shareholders and rank-and-file employees is that Hurd got rewarded for his bad behavior after he spent the last several years cutting tens of thousands of workers from HP's payroll.
In January, HP replaced four of its board members and added an additional director to the board. The departing HP board members are Joel Hyatt, John Joyce, Robert Ryan and Lucille Salhany. They are replaced by Shumeet Banerji, chief executive officer of Booz & Company; Patricia Russo, former CEO of Alcatel-Lucent; Gary Reiner, former CIO at GE; Dominique Senequier, CEO of AXA Private Equity and Meg Whitman, former president and CEO of eBay.
The new board members provide HP with diversity and wide-ranging experience. By overhauling its board, HP seeks to mollify outraged shareholders and distance itself from the Mark Hurd debacle. This is no easy task. HP launched its own investigation of Hurd's departure. It will be conducted by CEO Leo Apotheker, the new board members and outside legal counsel. Apotheker has wasted no time assembling his team.
On April 18, HP announced that Thomas Hogan, who headed the company's enterprise business sales and marketing, will leave on May 31 to "pursue other interests." Hogan's replacement is Jan Zadak (a former Compaq executive). Zadak is presently the managing director for HP's Europe, Middle East and Africa (EMEA) operations.
In mid-April, HP also appointed Marty Homlish as executive VP and chief marketing officer. Homlish will be responsible for overseeing and leading marketing across the company and will become a member of the company's executive council, reporting directly to Leo Apotheker. Homlish and Apotheker worked together before at SAP, where the latter was CEO. Prior to joining HP, Homlish spent 10 years at SAP, where he served as the global chief marketing officer and corporate officer, as well as president and CEO of SAP Global Marketing.
Investors on Edge
There was also a seismic (though amicable) shift at search engine market leader Google. The company announced in January that Eric Schmidt would relinquish his CEO post in April in favor of company cofounder Larry Page. Page took over in early April and immediately reshuffled managers and the reporting structure.
The CEO change at Google is prompted by the desire to aggressively expand into new markets. Page is going to have to prove himself, though — Wall Street is nervous. In the wake of continuing skirmishes with leading vendors, including Microsoft and Apple, and the somewhat disappointing financials reported on April 14, many on Wall Street are concerned about Google's prospects. They question the company's aggressive spending spree.
Months ago, Google announced plans to hire 7,000 to 10,000 new workers; hand out 10 percent company-wide salary increases and aggressively pursue new business. That includes technology expansion into everything from smartphones to social networking to mobile, as well as expensive marketing campaigns.
In its latest quarter, Google reported expenses of $2.84 billion — a 54 percent increase from the prior year. While revenues in the quarter ended March 31 rose by 29 percent, Google's stock price has decline by nearly 9 percent since January, when it announced that Schmidt was stepping down as CEO. The decrease has wiped out roughly $12.5 billion from Google's market capitalization, which now stands at $173.09 billion (still one of the best in the industry).
Google remains the dominant player in the search engine arena, with a commanding 65 percent market share. Its next closest competitor is Microsoft's Bing, which has about 14 percent, and Bing is linked to Yahoo, which has another 16 percent, for a combined share of 30 percent. Google's Android mobile operating system, meanwhile, remains the undisputed market leader with a solid 45 percent market share — twice that of its nearest rival, Apple's iOS.
2011: The Year to Date, Part 3