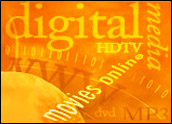 U.S. television programming is moving toward on-demand status, judging from a federal appeals court ruling Monday in favor of Cablevision's proposed network-centric digital video recorder.
Concluding a two-year legal battle, U.S. Circuit Court Judge John M. Walker Jr. found that Cablevision's plans to store recorded programs on a central server instead of a set-top box's hard drive do not violate copyright protections for media companies.
If the ruling holds up to a possible Supreme Court challenge — and if more cable companies and advertisers decide to take advantage of the technology — it could lead to more DVR adoption and programming choices, along with the continued power to fast-forward through commercials.
Threat or Opportunity?
Storing programming on a cable company's server might actually give advertisers — as well as the media giants and cable companies that rely on their money — a chance to use the technology for their benefit. If you tape an episode of "Lost," older commercials from the original airdate could be updated at the server with newer, possibly targeted, ads.
"The advertisers are going to have to come to the table and say, 'We have a solution for this,'" Gartner Research VP Mike McGuire told the E-Commerce Times."They have to tell the cable companies: 'You've got the boxes. If you can give us more information, we can do dynamic insertion of ads and replace the original ad with something more relevant, more current.'"
Cable technologists are already experimenting with addressable ads and ad networks, McGuire said. "There are some building blocks in place."
With Great Power Comes Great … Network Congestion?
Cable company executives are no doubt considering the efficiencies involved in simply downloading recording-functionality software to existing set-top boxes instead of trying to sell consumers hard drive-based DVRs.
"The set-top box is really a significant capital cost for all the cable operators," John Byrne, analyst for Technology Business Research, told the E-Commerce Times. "Any solution that you could propose to them that gives them that (DVR) functionality right now is music to their ears."
However, that tune could quickly change because of bandwidth issues on existing cable networks. The FCC has already warned Comcast in no uncertain terms to stop thwarting network traffic between peer-to-peer sites. What about the prospect of more content moving along increasingly congested cables?
"I think it has major implications for network traffic," Byrne said. "Cable companies are already in a situation where they're looking at HD (high-definition) and expanding HD channels. I'm wondering how much bandwidth they really have at their disposal, and wondering what the implications are long-term if this technology takes off."
Legal Challenges
Media companies may take the issue to the Supreme Court. "They've gone this far — what's another $10 million in legal fees?" Byrne remarked.
"They won at trial," he pointed out. "There's always the possibility the Supreme Court will look at it and have a different perspective, but I think, ultimately, the appellate court was pretty forceful in overturning the district court's ruling."
The money might be better spent on business development than on lawyers, McGuire suggested.
"A lot of people didn't buy DVRs for cost reasons or complexity, but in the end, the leading edge of consumers — they do buy these devices. And their experiences on the Internet are showing that they are expecting a greater level of control over their media," he maintained.
"Long-term as well as short-term, the [multisystem operators] and content companies have to start developing new business models," said McGuire. "Otherwise, they're going to see audiences disappear — and the audiences aren't going to send them a note."