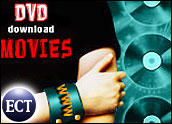 The online video distribution sweepstakes gained another entrant Monday, with cable provider Cablevision throwing its resources behind a joint venture with Popcorn Home Entertainment that will offer movie downloads the same day they are released on DVD.
Cablevision said the service will enable subscribers to its iO TV digital cable service to download and instantly watch on-demand movies weeks before they are widely available through traditional video-on-demand channels.
Known as "Popcorn DVDs On Demand," the service will give users who purchase packaged DVDs to watch them through download format on the same day they are released to retail stores.
Customers will make the purchase through their set-top boxes and receive the DVD version of the movie in the mail a few days after the download becomes available.
The new service is "a major step forward," said Patricia Gottesman, Cablevision's executive vice president of digital marketing and commerce. It will leverage the company's fiber optic network and the advanced set-top boxes that many digital customers already have in their homes, she added..
Satisfying the Studios
Users who buy the movies through the service — prices will range from US$9.99 to $15.99 for older movies and $19.95 for new releases — can watch the films on-demand during a 24-hour window.
For now, the main films being made available include titles from Universal, whose "American Gangster" will be immediately available for download when it's released on DVD on Feb. 19. Some movies from Warner Bros. will also be made available through the service, though the titles were not specified.
The service offers "the best of both worlds," with users able to get "instant gratification" from watching the movie immediately and the added features and permanence of a DVD, Popcorn CEO Steve Brenner said.
While other movie download services have been launched that put movies up for download before they are widely available, the Popcorn partnership is unique because it still involves the purchase of a physical DVD.
That element may help make movie studios more comfortable with the approach by protecting physical distribution from cannibalization by the new channel, Yankee Group analyst Mike Goodman told the E-Commerce Times.
"The studios hope the move away from DVDs is going to be a gradual one because that's the model they are most comfortable with right now," Goodman said.
Plenty of Company
Since the middle of 2007, hardly a week has gone by without another new video-on-demand offering being announced.
Two weeks ago, HBO began offering a wide variety of its programs for download via the Web in a regional test. Also last month, Netflix upgraded its streaming video offering to enable users to get more of their content in digital format, and Comcast debuted a Web-based portal for its on-demand video known as "Fancast."
What may make Cablevision's offering different and help it stand out is its ability to shrink the lag time before video becomes available for viewing on-demand. Most cable networks' on-demand menus feature films that have already been on video store shelves for a number of weeks.
Cablevision has said that it hopes to one day be able to offer new theatrical releases through its digital on-demand network at the same time movies hit multiplex cinemas.
That idea may be some time in coming, given the disruption it would cause for studios. Meanwhile, the cable network-specific platforms such as that from Cablevision are going to be competing with more open platforms such as the Apple TV and other services and devices that can act as a Web-to-TV intermediary, said JupiterResearch analyst Ian Fogg.
"Cable companies thought they would be selling music over their fiber optic networks, but they were outflanked by the likes of Apple," Fogg told the E-Commerce Times. "They are eager to show their content partners they can deliver customers themselves and prevent that from happening with their main bread and butter."