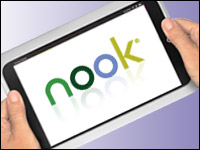 Barnes & Noble on Monday announced a suite of free video apps that will let users watch movies and TV shows on a range of devices, including tablets that compete with its own Nook.
This comes just a month after the retailer announced that it would cease designing and selling its color tablets. Also in July, William Lynch was replaced as CEO and director.
The new Nook Video apps are free and are available for Android, iOS and even Roku devices. Nook customers will also get their own version beginning Monday.
Available through the apps are Nook Video HD movies and TV shows from major and independent studios. Titles can be purchased or rented from the Nook Store without a subscription. Customers can instantly stream and download purchases on Nook tablet devices or through a Nook Video app.
Barnes & Noble did not respond to our request for further details.
App Alternative
"These new apps will, of course, let users watch movies and TV on tablets that rival the Nook," Rob Enderle, principal analyst at the Enderle Group, told the E-Commerce Times.
The Kindle Reader app has been available on iOS, Android and Windows Phone for some time, Enderle pointed out.
"As a bookseller you want as many people reading your books as you can get, and neither Barnes & Noble nor Amazon makes any money from the reader," he added. "In fact, with current prices they lose money. The app is cheaper for them than producing the tablet is."
A 'Hail Mary' Move
With numerous companies starting to provide video content through over-the-top devices, Barnes & Noble could now be looking to position itself much like Amazon or Hulu or even Netflix — as a content provider rather than just a traditional retailer.
"Call it Barnes & Noble's 'pivot' toward a Netflix-like service or content distribution channel," Greg Sterling, principal analyst at Sterling Market Intelligence, told the E-Commerce Times. "Clearly its Nook hardware sales were losing to others and the company made the decision to stop making the color devices. Better designs might have produced a different result.
"The new app may also be something of a 'Hail Mary' in the sense that to drive adoption it will have to offer more or cheaper content or some other set of compelling features to gain adoption," Sterling added.
Future of the Nook
It remains to be seen whether this latest move signals Barnes & Noble's move toward content and away from hardware for the future.
"I'm surprised that Microsoft, B&N's partner, doesn't pick up production of Nook," added Sterling. "Although it's an Android-based tablet, the company still could be able to do something interesting with it, and there is a bit of a brand there as well."
In any case, it's a move Barnes & Noble should have made some time ago, Enderle opined. "Last month they indicated they were going to stop building the hardware, so the app became the only way to keep the business alive. It is amazing how badly they screwed this up."