Best Buy will be the exclusive retailer for Amazon's next generation of Fire TV Edition smart TVs in the United States and Canada under a new multiyear partnership the firms announced Wednesday.
Best Buy will carry more than 10 4K and HD Fire TV Edition models from Insignia and Toshiba starting this summer.
The new smart TVs will feature the Fire TV experience built-in, allowing viewers to enjoy live over-the-air TV programming as well as streaming content from a variety of sources, including Amazon Prime Video, Netflix, HBO, PlayStation Vue, and Hulu.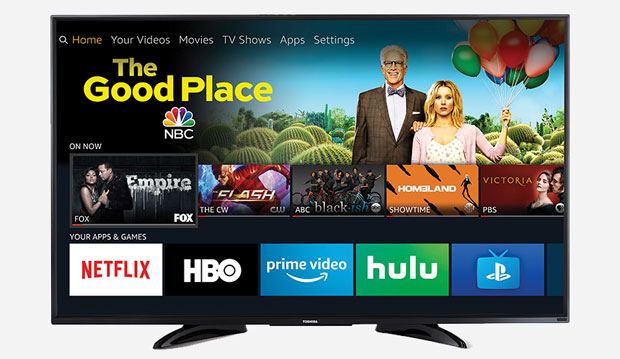 Fire TV Edition Smart TV
---
The Fire TV Edition smart TVs come with a Voice Remote with Alexa, which allows users to access apps, search for TV shows, play music, adjust TV settings and inputs, and control other smart home devices. The sets can be paired with any Amazon Echo Device.
"Amazon and Best Buy have a long history of working together, and today we take our partnership to a new level," said Amazon CEO Jeff Bezos. "These Fire Edition smart TVs by Insignia and Toshiba deliver beautiful visuals and all the movies and TV shows you love, with an experience that gets better every day with Alexa."
Seeing Is Believing
For many, Amazon has become the go-to retailer for everything from books to groceries, and consumer electronics are among its strongest categories. However, TVs are still something many consumers want to see before making a purchase. It makes sense that Amazon would want products with its Fire TV functionality to be displayed in a large brick-and-mortar retailer such as Best Buy.
"In the case of products like TVs, it is still important to evaluate in person to judge picture quality," said Paul Gagnon, executive director for consumer devices at IHS Markit.
"Many other consumer electronics products are purchased on specification, but our experience is that consumers in the U.S. still prefer to evaluate the performance of audio and video products before purchasing," he told the E-Commerce Times.
"This is especially true with bigger TVs," said Stephen Baker, vice president and industry advisor for technology and mobile at The NPD Group.
"The smaller TVs — those 37 inches and smaller — still sell online, but Amazon certainly recognizes that to get the scale for Fire OS products, there needs to be a robust in-store experience," he told the E-Commerce Times.
TV Market Competition
The Best Buy deal allows Amazon to get its products into more TVs that potential buyers will see on the showroom floors.
"Smart TVs currently account for more than 70 percent of TV sales in North America, so it is an important category," noted IHS' Gagnon.
This isn't just about smart TVs, though. It is a way to increase visibility of the Fire OS brand.
"Proprietary Smart TV platforms for Samsung and LG are still important, but Roku TV has grown significantly in 2017 as a third-party platform, similar to Fire TV," said Gagnon.
Roku was the No. 2 operating system platform for smart TVs in North America in 2017, and no doubt Amazon would like to get a piece of that market.
"To get there, Amazon needs to be on TVs that customers recognize and trust, and Best Buy's Insignia and Toshiba fit that well," remarked NPD's Baker.
More Cooperation Than Competition
Amazon has long been viewed as a threat to traditional retailers — and this is certainly true when it comes to consumer electronics — but in this case, the mutual benefits overshadow the competition.
"Best Buy is now a strong, growing retailer, and while it competes with Amazon, it can also be a partner with Amazon," said Baker.
"In this case, it isn't about Amazon as the retailer but as the hardware company; so this move has little to do with that normal competition, but is really about Amazon hardware needing a broader platform in stores as they compete with Roku and other platforms on smart TVs," he added.
However, Best Buy's involvement in helping an online retailer — even in a hardware partnership — suggests there is more to it.
"What the Amazon/Best Buy partnership tells us is that both thee-commerce and the brick-and-mortar sides of the retail story are facing different kinds of pressures and that by working together, they believe that they are more likely to succeed," said Elizabeth Lim, senior research analyst at Mergermarket.
"In Amazon's case, though they're known these days for disrupting and striking fear in traditional sectors — for example, in retail as well as in healthcare — they are still in need of increasing their market share," she told the E-Commerce Times.
"For Best Buy, this is about survival and gaining access to the dominant e-commerce platform," Lim said.
"Though they've tried to build up their own platform, this really is a case of 'if you can't beat them, join them,'" she added. "In terms of this Fire Edition smart TV, by increasing consumers' access to these kinds of products — they can choose to buy them in person in Best Buy or online via Amazon –consumers are more likely to be interested in these items and talk about them in their networks, and all parties appear to win in the end."