Google on Thursday announced a new feature that will let users mute so-called" reminder ads" in third-party apps and websites that are powered by its ad engine. It plans to expand this feature to its own services, including Gmail, YouTube, and Google Search, in the coming months.
The new tool is the latest addition to Google's dashboard for ad controls, first launched as Ads Preferences Manager back in 2009. The addition of Ad Settings and Mute This Ad will allow users essentially to block certain ads on Google, on websites and in apps.
This new capability is meant to address a common experience after users have viewed products on some e-commerce sites. Even after having purchased a similar or even identical product on another site, users often receive reminder ads based on their past browsing activity.
Now users will be able to mute those ads across devices. So blocking an ad on a smartphone, for example, will result in blocking it on all other devices tied to their accounts.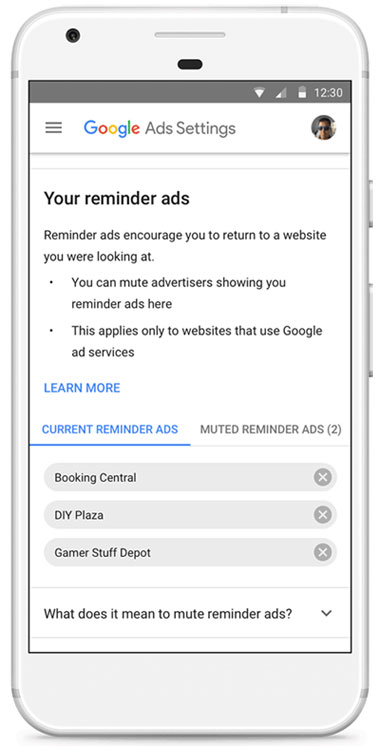 How to Mute
To mute an ad, users need only pull up the Ads Settings dashboard on Google and scroll down to Your Reminder Ads. From there, a simple click is all it takes to stop an ad from appearing. Muted ads will not appear again for at least 90 days. However, this feature currently works only on non-Google websites — and if a site is serving ads that aren't controlled by Google, using the mute option will have no effect.
"Google is taking brave steps into the politics of advertising these days," said Josh Crandall, principal analyst at Netpop Research.
"They are releasing their Chrome-based Adblock Plus and now have announced ad controls," he told the E-Commerce Times.
"On the surface, these moves might be seen as contradictory with their business model, but Google is slowly changing the rules to protect the long-term strength of online advertising," added Crandall.
The ad mute function is just a tweak to Google's longstanding policy, suggested Paul Teich, principal analyst at Tirias Research.
"Google had already let consumers block specific ads," he explained.
"The new features give consumers more control over what types of ads they see, let consumers block specific advertisers, and implement these features across devices and platforms," Teich told the E-Commerce Times.
"So, consumer ad preferences will follow them from PC to a smartphone to smart speakers, smart TVs, etc.," he added. "The cross-platform bit is key because consumer preferences are now stored in Google's cloud."
Win-Win Proposition
It would seem that users will benefit from this change, but Google wouldn't be making it if it were not beneficial to its ad business.
Users may be able to mute reminder ads, but that won't make advertising go away.
"Any time users can signal their interests in what they want to see and what they don't, it is beneficial to the ad industry," noted Netpop's Crandall."It means Google will find it easier to track individual preferences and correlate preferences across vast numbers of consumers."
This will give Google better insights into their ad customers' company, and product brand perception, as well as the advertising strategy effectiveness Tirias' Teich observed.
"All of this will help advertisers and publishers increase effectiveness, while Google's advertising supply chain will get better at reaching individual consumers with ads for brands and products they are more likely to relate to and click-through," he said.
For Google, more relevant and contextual advertising ultimately could result in a higher yield.
"Users who take control of what makes it to their screens are more likely to be interested in the messages that are presented to them," said Crandall. "The relationship between user and advertiser will evolve over time from one that sees advertising as a necessary evil to another way of perceiving advertising messages as a valuable component of the online experience."