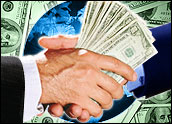 Once-dominant modem maker U.S. Robotics has agreed to be acquired by a private equity firm that indicated it would make its deep pockets available for expansion and other purchases to help the company find growth again as Internet access technologies continue to evolve.
Platinum Equity did not disclose the price it would pay for the privately held U.S. Robotics, headquartered in Chicago. But speculation based on past comments by company CEO Joseph J. Hartnett put the cost of the deal at between US$30 million and $50 million.
Growth Plan
Tom Gores, the billionaire chairman and CEO of Beverly Hills, Calif.-based Platinum Equity, said Platform would help the modem company regain market share by "providing the resources and support necessary to grow," which in turn would let the management team "execute its business strategy."
"U.S. Robotics has a stellar reputation for quality and innovation, and is one of the premier brand names in the technology industry," Gores said in a statement. "There is enormous opportunity for growth as the broadband and wireless markets continue to evolve, and we're eager to help the U.S. Robotics team drive that growth."
U.S. Robotics quickly became a well-regarded maker of dial-up modems in the earliest days of the Internet boom, tracing its history to 1976, when three college students formed the company and named it after a dominant in the science fiction world of author Isaac Asimov's novel I, Robot.
During the 1990s in particular, U.S. Robotics' equipment became the entrance ramp to the information superhighway for millions of people worldwide connecting via standalone and integrated PC dial-up modems.
More to Come?
If the rumored purchase price is correct, the deal underscores the changes in the technology world. In 1997, 3Com bought U.S. Robotics — along with Palm Inc. — in a deal that at the time was valued at around $6 billion.
3Com later spun the company off and the company saw harder times as other firms ate into its market share, especially as various broadband technologies — such as cable modems and DSL lines — began to eclipse dial-up. U.S. Robotics was known to be seeking a buyer for at least a year.
Platinum left little doubt that it had other acquisitions in the modem and communications area in mind, noting the company's "potential as a platform for add-on acquisitions."
"U.S. Robotics has been at the forefront of modem technology for more than three decades, connecting millions of users around the world to the Internet," Levitas said. "As new broadband, wireless and security applications evolve, the company is well-positioned to grow. We believe we can accelerate growth by identifying complementary strategic acquisitions."
Platinum's portfolio already includes a number of technology and communications firms, including: Altura Communication Systems, which it bought from Fujitsu in 2001; voice and data integration firm NextiraOne, which it bought in 2002; managed network services firm Vanguard Managed Solutions, which it bought from Motorola four years ago; and CRM software market Foresight, which it has owned since the 1990s.
The firm also owns stakes in several unrelated companies, buying a CD and DVD club marketing firm from Vivendi Universal last December and a firm that makes concrete cutting equipment earlier this month.
Still Going
Analysts said U.S. Robotics continues to have a strong share of the modem market, but that the segment itself has become a difficult one as customers have become comfortable with so-called black box modems, buying the lowest-cost product without regard to brand name. That in turn has meant lower price points and tighter profit margins.
U.S. Robotics has moved aggressively into areas such as wireless networking, unveiling a host of such products at a trade show earlier this year — such as wireless printer networking and enterprise-level wireless routers — but so far those efforts have not been enough to reignite growth.
Ovum analyst Jeremy Green told the E-Commerce Times that the best positioned companies in the modem space may be wireless carrier gear and handset makers such as Motorola and Nokia, though U.S. Robotics continues to have a strong technology portfolio.
"The opportunities are out there in wireless and high-speed, but the competition is out there as well," Green said.
Research firm IDC recently said that the modem marketplace is rife for change as carriers look to add new services — such as VoIP and video-over-broadband. Those new service demands will help create a market need for new modem products despite the fact that "broadband technology has started to reach subscriber saturation points in some well-established markets," including the U.S. and parts of Europe, said IDC analyst Sean Lavey.