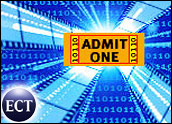 Six months after Buy.com took a page from Amazon.com (Nasdaq: AMZN) by forming an e-commerce outsourcing division, the company has landed its first customer, online movie ticketing site Fandango.
United Commerce Service (UCS), as the Buy.com spinoff is known, will create a co-branded Buy.com site for Fandango that will enable the ticketing firm to sell DVDs, books, magazines and other products online.
UCS president Sherman Atkinson told the E-Commerce Times that Fandango is a "logical fit" for Buy.com because both sites focus heavily on entertainment. "This is a strategic push for them," he said, noting that Fandango was seeking to ramp up its e-commerce offerings.
Details Few
Atkinson said the first phase of the partnership will enable Fandango users to buy anything related to a movie, such as video games, books or soundtracks, through the co-branded site. The two companies will share revenue, he added, though he declined to provide specific dollar figures.
UCS will manage inventory, fulfillment, site content, customer service, Web site hosting and e-mail marketing for the site. The two companies plan to extend their partnership at a later date, according to Atkinson.
Growing Market
Meanwhile, Buy.com spokesperson Stacey Doherty said the Fandango deal likely will be the first of several UCS customer wins announced in the next few weeks.
And Giga Information Group analyst Andrew Bartels told the E-Commerce Times that more companies will outsource their online workload as they realize they can reap the benefits of multichannel retailing without a huge upfront investment. "I think the number of companies that this makes sense for is pretty large," Bartels said.
Atkinson noted that the UCS division's strongest selling point is Buy.com's technology, which it touts as a way to sell not only through the wired Web, but also through wireless devices and interactive television. Though he did not name Amazon, he noted that some of Buy.com's competitors are touting a Web services model. Amazon announced in July that it would offer more Web services to its partners.
"We were using dot-net when it was still in beta, before anyone heard about it," Atkinson said.
Time Will Tell
This latest announcement opens yet another front in the war Buy.com has chosen to wage against Amazon.
Amazon dominates the e-tail arena, but Buy.com has become an aggressive competitor, undercutting Amazon on book prices and waiving all shipping fees in a move designed to best Amazon's offer of free shipping on all orders of US$25 or more.
On the other hand, although Fandango is vying for supremacy in the online movie listings and ticketing category with AOL's Moviefone and others, it is less of a household name than some of Amazon's partners, including Toysrus.com, Target and Macy's.
Amazon officials were not available for comment.