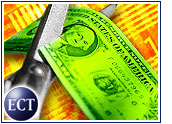 Online retailer Buy.com (Nasdaq: BUYX) announced Thursday that two members of its board of directors, both representing the venture capital arm of Tokyo-based Softbank, are leaving the struggling e-tailer.
The departures of Softbank's William L. Burnham and Scott Russell leave four seats open on the Buy.com board. Jonathan Firestone, a former president of BBDO Minneapolis, and Charles Richion, a retired Hewlett-Packard senior vice president, resigned from the Buy.com board in March.
Additionally, in mid-February, Buy.com chief executive officer and chairman of the board Gregory Hawkins and chief financial officer Mitch Hill resigned for unspecified reasons. At the time, Morningstar.com analyst David Kathman said that it looked like "the board kicked them out."
Softbank Capital Partners, which owns 28 percent of Buy.com's outstanding shares, would not comment on the reasons behind the resignations of Burnham and Russell. However, Russell said that both he and Burnham "remain committed to helping Buy.com on non-board matters in any way we can to ensure the company's success."
Reconstructive Surgery
On February 28th, Buy.com announced that it was eliminating approximately 125 positions — more than half of its 230-person staff — in a bid to conserve cash.
The company posted a net loss of US$133 million, or $1.04 per share, for the fiscal year ending in December, but predicted that its pro forma net loss would narrow to less than 5 percent of sales for 2001, with positive operating cash flow in the fourth quarter.
Since going public in February 2000, Buy.com has seen its stock price slip steadily from $35 per share to 22 cents per share at the close of trading Thursday.
In the past year, Buy.com has opened — and then shut — e-tail operations in three countries, including the UK, Canada and Australia. The company also exited the golf business it acquired from Buygolf.com and closed its sports store.
Not Alone
A report released in March by Challenger, Gray & Christmas found that dot-com chief executive officers are departing their companies at a rate of almost one per day.
Some notable executive exits over recent months include Yahoo's CEO Tim Koogle, Webvan founder Louis Borders, Priceline founder Jay Walker, and HotJobs founder and CEO Richard S. Johnson.
"Dot-coms may have a particularly difficult time finding solid leadership," John A. Challenger, chief executive officer of the job placement firm, said in March. "Many prospective chief executives may be steering clear of these types of operations simply because there is no telling if the company will even exist in six months."