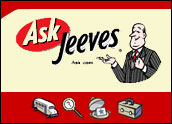 Ask Jeeves announced today that is has acquired privately held Bloglines, a free online service for searching, publishing and sharing RSS feeds, blogs and rich Web content. Financial terms of the deal were not disclosed.
Bloglines will continue to operate as an independent brand in the Ask Jeeves portfolio and retain its name and unique URL.
"Bloglines is a natural fit for our multi-brand portfolio, as we extend our information retrieval services to encompass the rapidly growing amount of dynamic content and information available in the blogosphere," Jim Lanzone, Ask Jeeves' senior vice president of search properties, said.
Personalized Searching
Lanzone said Ask Jeeves would provide Bloglines with the resources to grow its service and help it reach a broader audience. However, analysts said Bloglines also offers hidden benefits to its new parent company.
Chris Sherman, associate editor of Search Engine Watch, told the E-Commerce Times the Bloglines is a good buy for Ask Jeeves since blogging has exploded in popularity over the past year. The fact that Bloglines subscribers create personal interest profiles gives the company even more ammunition in the search wars.
"Ask Jeeves now has access to thousands of personal profiles," Sherman said. "Whether or not the company actually moves to monetize the property is not the main issue. Ask Jeeves has really acquired a very useful service that will help its core business. They can aggregate personal data to reveal consumer interest patterns."
The acquisition brings together complementary technology assets, including Bloglines' RSS aggregation capabilities and Ask Jeeves' Teoma algorithmic search technology. Ask Jeeves plans to leverage these technologies across its search and portal brands, and as of today, Bloglines' Web search capability will be powered by Ask Jeeves' search technology.
One-Stop Searching
"It is exciting to have the opportunity to connect Bloglines' live information flow and blog search capabilities with our unique indexing technology to provide consumers with one of the most comprehensive and personal Web experiences across all sources — from the desktop to the Internet and, now, into the blogosphere," Lanzone said.
This comprehensive and personal experience is part of a move by search engines to become one-stop services, according to Sherman. He said it's similar to search engines' attempts to become portals in the 1990s.
"Blog search is one aspect of the one-stop search service," Sherman said. "Competitively, these sorts of tools are the price of entry for all the major players."
Competition Heating Up
Speaking of competition, Sherman said the Bloglines acquisition will help Ask Jeeves compete with rivals Google and Yahoo.
However, he also said Ask Jeeves faces the same challenge in the blogosphere as it does in other search segments: its still the smallest of the major players.
"Ask Jeeves has to become recognized as a high quality service so that more and more people use it," Sherman said. "Ask Jeeves has the high quality. The company just needs to get out and spread the word."