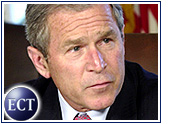 With the first 100 days of his presidency coming to a close at the end of this month, President George W. Bush has yet to articulate a formal e-commerce strategy. As a result, there is some disagreement among experts on how much Bush will help the industry.
Forrester Research group director John McCarthy told the E-Commerce Times that e-commerce would grow during the Bush administration, although he went on to say that some people believe Bush "hasn't done e-commerce any favors by talking us into a recession."
Rob Atkinson, director of the Democratic-backed Progressive Policy Institute's Technology & New Economy Project, said that the sector will develop under Bush, but added that he does not "expect it to grow as much as it could."
On the other hand, there is a line of thinking that e-commerce has a momentum that will transcend the president's influence.
"E-commerce will grow no matter who occupies the White House, simply because it is a relatively new way to sell things that companies will learn to better utilize as time goes by," said Aaron Lukas, an analyst with the Cato Institute's Center for Trade Policy Studies.
Budget Ins and Outs
Bush's proposed budget for the 2002 fiscal year, released April 9th, sent mixed signals to tech industry observers.
The US$2 trillion budget included a provision to permanently extend the research and development (R&D) tax credit, a move that has strong bipartisan support inside and outside the high-tech sector. However, Bush proposed cutting funding for R&D at the U.S. Department of Commerce and the Advanced Technology Program (ATP).
Most frustrating to many in the high-tech sector is the decrease in funding for U.S. Patent and Trademark Office (PTO). Many observers believe that the PTO needs to more money, not less, in order to reduce the 25-months it takes on average to process patents — a period that often encompasses multiple product cycles.
"If the PTO were running smoothly, that's one thing," Giga Information Group analyst Jim Grady told the E-Commerce Times after the budget proposal was released. "But the PTO's workload, and the complexity of its workload, have increased."
Loose Reins
If there are any conclusion to be drawn at this point regarding Bush and e-commerce, it is that the president is using a light hand and allowing the industry to regulate itself. However, Lukas and Atkinson disagree on whether that approach is the most beneficial prescription for the New Economy.
"A vibrant technology sector requires a hands-off approach from Washington, and Bush is not inclined to touch," Lukas said. "Although no champion of laissez-faire, Bush appears to favor a lighter regulatory touch than his predecessor. He has spoken approvingly of 'self-regulation,' which really just means allowing companies to succeed or fail based on how well they meet consumer demand."
However, Atkinson said that in order for the e-commerce sector to flourish, the government needs to protect the fledgling online economy.
"There is not much indication that the Bush administration sees the development of e-commerce as fundamental to the economy," Atkinson said.
Ante Up
In fact, McCarthy believes that the Bush administration will not be able to maintain a hands-off approach for long. McCarthy said that within the next 18 to 24 months, Bush will be forced to take some steps to regulate e-commerce.
"E-commerce is getting more and more profitable," McCarthy said. "There are starting to be winners and losers."
McCarthy added that soon, the current losers would begin pressuring the administration to take action. One way that Bush could really give e-commerce a boost, according to McCarthy and Atkinson, is to solidly back e-government.
Free Trade Issues
One area of concern for Lukas is Bush's choice of Donald Evans as Secretary of Commerce, because of Evans' lukewarm support for free trade.
U.S. Secretary of Commerce Donald Evans
"The Commerce Department will have a positive impact on the development of e-commerce only to the extent that it does not stand in the way of trade liberalization in general, and the administration is able to open markets abroad," Lukas said.
"Unless the administration is willing to place such protectionist relics of U.S. trade policy on the negotiating table, there will be little progress in liberalizing global trade over the next four years," Lukas added. "That would be very bad news indeed for America's technology companies."
European Connection
Another potential tinderbox is the use of global regulations to govern e-commerce. There are indications that the European Union could mandate that the laws of the country of destination govern cross-border e-commerce transactions.
If this step is taken, it could mean that companies could be responsible for complying with the laws of hundreds of different countries. How much the U.S. will go along with this remains to be seen.
"It's a horrible idea — hard and fast rules just won't work," Lukas said. "Bush is much less likely than his predecessor to be sympathetic to any international arrangement that would undermine U.S. sovereignty or dilute Washington's ability to regulate commerce that takes place on American soil."
Tempest or Drizzle?
However, Atkinson believes the real question is not whether or not the administration will support such an arrangement but "how much they are going to act to prevent that." He said the current thinking in the administration is that there is "no way" that the EU could pass such a proposal because it is so unworkable.
McCarthy was more pragmatic about the issue and said that in reality, the U.S. had stricter consumer protection laws than most countries anyway. Even if the EU does pass such a law, McCarthy added, there is no guarantee that it would change the way companies operates because in order for it to have teeth, it would have to be implemented by each country within the EU.
The Tax Task
Other areas that the Bush administration could influence include high speed Internet access, privacy, tax breaks for businesses and the Internet sales tax issue.
McCarthy said that as long as consumers kept spending, online taxation would not become a big issue. However, if the economy continues to deteriorate, brick-and-mortar retailers will begin stepping up demands that their e-tailing brethren be forced to collect sales tax to level the playing field.