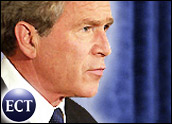 President Bush wants to renew and expand the controversial temporary surveillance legislation he rushed into law last month.
The law, also known as the "Protect America Act," updates the Foreign Intelligence Surveillance Act (FISA) by permitting warrantless surveillance of any targets located abroad, even if they are communicating with someone in the United States. Because of a sunset clause, the law is due to expire Feb. 1, 2008.
"The threat from Al-Qaeda is not going to expire in 135 days," Bush warned during a Wednesday visit to the National Security Agency (NSA) in Fort Meade, Md.
"Unless the FISA reforms in the act are made permanent, our national security professionals will lose critical tools they need to protect our country," he said. "Without these tools, it'll be harder to figure out what our enemies are doing to train, recruit and infiltrate operatives in our country. Without these tools our country will be much more vulnerable to attack."
'Liability Protection'
In addition to urging Congress to renew the current legislation, Bush also asked for additional measures he originally proposed last April that would protect companies that have come under fire for their role in government wiretapping programs. AT&T, for instance, is involved in a lawsuit brought by the Electronic Frontier Foundation for its assistance in the NSA's broad-scale wiretapping efforts.
"It's particularly important for Congress to provide meaningful liability protection to those companies now facing multibillion-dollar lawsuits only because they are believed to have assisted in efforts to defend our nation following the 9/11 attacks," Bush said. "Additionally, without this protection, state secrets could be revealed in connection with those lawsuits — and our ability to protect our people would be weakened."
Many Democrats were uneasy with the legislation Bush forced through just before Congress's August recess, and the sunset clause was included in the law as a way to ensure that it would be revisited.
Civil liberties groups, meanwhile, continue to vociferously oppose it.
'A Terrible Message'
"Our view is that based on the information that has been made available to the public, the case has grown for better oversight and accountability for electronic surveillance efforts by the United States," Marc Rotenberg, executive director of the Electronic Privacy Information Center (EPIC), told the E-Commerce Times.
"The critical issue people need to understand is that effective national security requires effective oversight of government activities," Rotenberg explained. Regarding the proposed liability protection for telecommunications firms, meanwhile, "it sends a terrible message for the administration to in effect suspend the privacy laws that protect the rights of Americans," he added.
National security and privacy protection for American citizens are not mutually exclusive, the Center for Democracy and Technology maintains.
"Congress can provide exactly what Mike McConnell, the Director of National Intelligence, says he needs while also including protections for the privacy of Americans, but the Protect America Act fails to do that," David McGuire, spokesperson for the Center for Democracy and Technology, told the E-Commerce Times.
Fear Tactics
"Our firm belief is that there is a way to enact a surveillance law that closes the technological loopholes that have been mentioned and makes it possible to engage in legitimate surveillance — both on foreign suspects and, with appropriate court approval, American ones — while also ensuring that ordinary Americans are not swept up in investigative dragnets," he said.
Bush concluded his speech at the NSA by emphasizing that "the decisions Congress makes will directly affect our ability to save American lives" — an assertion the American Civil Liberties Union (ACLU) called nothing short of "fear-mongering."
"As part of the PR effort to gut the Foreign Intelligence Surveillance Act, the Bush Administration has pulled out every scare tactic in the book, including exaggeration and outright fibbing," said Caroline Fredrickson, director of the Washington legislative office of the ACLU.
"This goes hand-in-hand with the usual fear-mongering," she said, "all designed to get Congress to vote to suspend the Fourth Amendment rights of Americans."