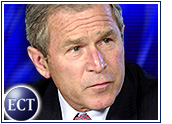 An executive order signed Tuesday by U.S. President George W. Bush aims to makecomputers — and the Internet — more accessible to people withdisabilities, beginning with new requirements for government Web sites.
"The Internet brings a world of information into a computer screen, whichhas enriched the lives of many with disabilities," Bush said in a speechTuesday at the Pentagon, which has a technology center devoted to peoplewith disabilities. "Yet technology creates challenges of its own."
Among those challenges, the president said, are the growing use of "brilliantgraphics" in Web sites, which make it difficult for visually impaired peopleto navigate the sites, video technology that is put on the Web but does notinclude closed captioning, and "complex keyboard commands" that are hard forpeople with impaired motor skills to use.
Those obstacles mean that computer use and Internet access for disabled people is about half that of the rest of the population, the government says.
Bush said the modified equipment at the Department of Defense has helped more than 20,000 Pentagon employees gain access to communications and the Internet. The department is using voice-recognition software and screen-reading technology, among other things, to help employees communicate with their co-workers.
E-Shopping for the Blind
In the UK, brick-and-click retailer Tesco last month unveiled a special page on its Tesco.com Web site that lets visually impaired people shop there without using specialequipment. The system, which the company developed along with the RoyalNational Institute for the Blind (RNIB), uses technology that converts textto speech, describing products and guiding consumers through the buyingprocess.
Advocates for the blind say existing software often does not work withflashy Web sites that use lots of links and graphics. Lorraine Marchi,founder and chief executive of the National Association for the VisuallyHandicapped, told the E-Commerce Times last month that her group's memberswould rather have Web sites address their needs directly than rely on third-party technology.
Tesco said that by bringing its e-commerce services to the blind, it istapping into a potentially lucrative market, as many disabled people are likely to benefit from shopping at home.
More Accessible
In the United States, companies including America Online (NYSE: AOL) arealso working on making their products and services accessible to people withdisabilities. According to the U.S. Census Bureau, more than 1.5 millionblind or visually impaired people already have access to the Internet.
Bush's executive order, which stems from a bill introduced by Sen. JimJeffords (I-Vermont), takes effect next Monday. The law requires federalagencies to make their Web sites and other information technology accessibleto people with disabilities.