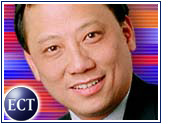 BroadVisionInc. (Nasdaq: BVSN) wasdown US$2.19 at $12.69 in morning trading Friday after missing analysts'targets for fourth-quarter 2000 growth.
Analysts at firms including Prudential Securities, CIBC World Markets andFirst Union Securities reportedly downgraded their ratings on BroadVisionafter the report.
While "aggressive growth and enhanced presence in global markets" resultedin higher expenses, "we feel good about the market and believe that we arewell positioned for continued success," BroadVision president and chief executiveofficer Pehong Chen said.
The Redwood City, California-based maker of e-commerce software reportedincome before extraordinary items of $4.6 million, or 2 cents per share, forthe fourth quarter ended December 31st. Analysts had expected per-shareearnings of 5 cents. A year earlier, the company earned $8.1 million, or 3cents.
Revenue for the quarter rose to $136.9 million from $43.7 million a yearearlier.
Reports said company officials expect first-quarter revenue to be about evenwith or slightly higher than fourth-quarter sales. Management reportedly issticking to its forecast for full-year 2001 revenue of $600 million to $630million, up 42 to 45 percent.
BroadVision said it gained 107 new customers during the quarter, bringingthe total to 1,169.
The company also formed some key alliances during the quarter, teaming up with IntelCorp. to develop and market products based on BroadVision software andIntel servers. The companies said they would commit substantial resourcesto the venture, although terms were not disclosed.
BroadVision has also teamed with i2Technologies to develop new e-commerce software products and services.
BroadVision shares are down from a 52-week high of $93.29, set lastMarch. The stock touched a low of $8.50 earlier this month.