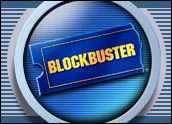 Blockbuster will buy film download site Movielink, a bid by the largest video and DVD rental chain to assure it remains a key player in distribution of movies even when DVDs become less prevalent.
Terms of the acquisition were not disclosed. Blockbuster has been known to have been in talks with Movielink for some time, however, with a slew of published reports pegging the value of the deal at around US$50 million.
Several major Hollywood studios — Sony, Warner Bros., Universal, Paramount and MGM — formed Movielink in 2002 as a way of preparing for the eventual digital distribution of movies.
Keeping Pace
The acquisition is one of the first major strategic moves for new CEO Jim Keyes, the former 7-Eleven executive who took the helm at Blockbuster in June after former CEO John Antioco was forced out by activist shareholders upset about the company's performance.
"Blockbuster is committed to keeping pace with the changing needs of customers by offering them an expanding array of convenient ways to access entertainment content," Keyes said. He called the purchase "the next logical step in our planned transformation" of the company.
"Now, in addition to the entertainment content we provide through our stores and by mail, we have taken an important step toward being able to make movie downloading conveniently available to computers, portable devices and ultimately to the television at home," he added.
Shares of Blockbuster stock were down a fraction of a percent to $4.21 in midday trading Thursday.
Large Catalog
Blockbuster said the 3,000-plus titles in the Movielink catalog give it the most extensive online offering of movies for digital download. Users can choose to rent movies for 99 cents and up — they can store the movie for up to 30 days, but have only 24 hours to complete viewing it once they start to play it — or download the movies to own.
Equally as important is the existing agreements with the five movie studios as well as some 30 additional TV studios and distributors that have licensed content to the site. In fact, Blockbuster is "grateful to the studios for entrusting us with their content," Keyes said.
"This is a forward-looking move," Yankee Group analyst Michael Goodman told the E-Commerce Times. "The battleground right now is still over DVD rentals, but this could be something that augments that service and eventually becomes something that people migrate to when the technology is all in place to make it happen."
Though devices such as the Apple TV now make it easier for Web-downloaded content to be sent to television sets, such setups still exist in a fraction of homes, especially when compared to the near-saturation of DVD players. In fact, only about 10 percent of U.S. Internet users were interested in downloading feature-length video to their PCs, according to a recent Yankee Group survey, while that number jumps four-fold when the ability to download directly to a TV is added in.
A Movie Bull Feast
The download market is becoming increasingly crowded even though demand remains in the early stages. Netflix launched a download offering in January, but that is clearly meant to be a supplement and not a replacement to its DVD-by-mail service. Rumors have been flying that Apple would add rentals to the movie section of the iTunes Music Store, where it currently only offers downloads to own.
Wal-Mart has also joined the fray by offering digital downloads, though it still only offers movies for sale. More recently, TiVo and Amazon partnered to make it possible for TiVo users with high-speed connections to download movies directly from Amazon through the DVRs — without using a personal computer.
In fact, the move likely means that the price war Blockbuster and Netflix have been waging to win customers for their DVD — by-mail services may live on in the digital world as physical media become a less important factor in movie distribution.
Battling for Customers
Currently, Blockbuster — whose Total Access plan also lets users return or pick up movies at its stores — has gained significant new membership, but has struggled to stay profitable as it cuts prices. Netflix responded with a price cut of its own in late July.
Under Keyes, Blockbuster will likely be looking for ways to maximize its customer base and leverage its chain of stores — the main differentiator with Netflix — all while also preparing for the fact that physical DVD rentals may not be its core business in just a few years, Wedbush Morgan Securities analyst Michael Pachter told the E-Commerce Times.
"Netflix has tried to grab the lead in the digital distribution channel but Blockbuster is signaling it's not going to give that up easily," Pachter said. Given what was likely a relatively small price tag, Movielink represents a way to quickly begin building the infrastructure for that future, he added.