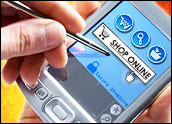 The Internet has emerged as a great place to shop for someone looking for a good deal. Price comparison sites ensure that consumers pay as little as possible, so they often end up with tremendous bargains.
However, the adage "If a deal sounds too good to be true, it probably is" applies to some of these transactions. Shysters have established bogus Web sites advertising name brands for a fraction of their typical costs. These businesses are booming: Online protection company MarkMonitor expects online sales of knockoff goods in 2007 to reach US$119 billion, up from $84 billion last year.
Black market goods are not a new phenomenon, but the pervasiveness and anonymity of the Internet unfortunately makes it an effective channel for counterfeit sales. Some fraudsters set up shop using domain names similar to legitimate brands and often plaster known brands' trademarks and logos on their online storefronts.
A Wide Variety
The companies either fail to note that they are not carrying legitimate goods entirely or try to skirt potential prosecution by using keywords such as "cheap," "discount" and "factory variants."
A wide variety of products are available on these sites. The illegal downloading and selling of items, such as music and videos, has been widely reported and continues to be a hot potato. "Some counterfeiters are so bold that they advertise movies that have not yet been released," said Andrew Horton, product management director at MarkMonitor.
The crooks deliver many other consumer products: watches, tennis shoes, purses and jeans. "Ninety-five percent of the Tiffany jewelry on eBay is counterfeit," said Rose Ryan, research analyst at market research firm IDC.
Fraudulent pharmaceuticals have been become a vexing problem because many consumers are looking for ways to cut their healthcare costs. Recently, the bad guys have moved into marketing other products, such as brake pads and commercial batteries.
Huge Profit Margins
While some sites are content taking consumers' money, most do deliver the goods. "The counterfeiting companies can produce a knockoff watch in China for $2, which means their markup is quite large," said Nils Montan, president of the International AntiCounterfeiting Coalition (IACC).
In some cases, consumers are tacit participants in the ruse. There are always individuals who want their friends to think they are carrying Gucci bags while they have knockoffs. In other cases, the buyers are not aware of being duped.
In addition to buying something that may be worthless, consumers expose themselves to other risks. The Recording Industry Association of America has been aggressively filing lawsuits against individuals who illegally download music.
Is There a Doctor in the House?
There are also potential health risks when consumers buy bogus pharmaceuticals. In many cases, they purchase drugs without the consent of their doctor, and the medication's aftereffects are not monitored. "The FDA expends 10,000 staff hours each month investing Internet sites distributing counterfeit drugs," IDC's Ryan told the E-Commerce Times.
Health problems can arise from other products. Earlier this year, controversy arose concerning a few Chinese companies making toothpaste. These corporations used diethylene glycol, which is in an industrial solvent and a prime ingredient in certain brands of antifreeze, as a substitute for glycerin, a harmless syrup, because the former is less expensive than the latter.
If high concentrations of diethylene glycol are ingested, the results could be kidney problems or even death. Compounding this transgression, the toothpaste was marketed to children — who are more vulnerable to the aftereffects — and featured bubble gum and strawberry flavors.
The U.S. Food and Drug Administration agency did not find any instances of health problems resulting from sales of such products, but it did discover diethylene glycol in a shipment of toothpaste at the U.S. border and in two retail stores: a Dollar Plus store in Miami and a Todo A Peso store in Puerto Rico. As a precautionary measure, the agency advised individuals to throw away toothpaste with labeling that said it was made in China.
Try Using Spell-Checker
Consumers can take steps to protect themselves from such problems. When shopping online, they need to be wary about "once in a lifetime deals." If they are skeptical, they should examine the Web site closely: in numerous cases, the items listed are often misspelled. "Buyers can check to see where the Web site is located; 'ru' means Russia, which would not be the headquarters for Rolex," MarkMonitor's Horton told the E-Commerce Times.
The counterfeiting also has an impact on businesses. The brand manufacturers want to protect themselves from unnecessary pilferage and lost sales from sites that often look legitimate. If companies try to shake off the fakers by altering the design or color of their products or adding complex holograms to their display, the counterfeiters usually follow suit within a few days.
Unfortunately, the corporations have little legal recourse. With the click of a button, a consumer buys products made across the street or across the ocean. Many of the knockoff companies are located offshore, primarily in China and Eastern Europe, so the issue of jurisdiction arises. In some cases, the local government does not have an incentive to go after the crooks aggressively. Even when U.S. companies receive cooperation, the expenses involved in tracking down the criminals can be significant, and the laws punishing such activities are not clear.
A New Business Genre Emerges
The growing number of fake items has spawned a new business segment. Companies like Kessler International, MarkMonitor and Marksmen provide a variety of services that help companies protect their brands. Often, they rely on automated Web-crawling software to detect advertisements of fraudulent products and send warnings to violators.
While these services can be beneficial, they are not going to slow the influx of these activities. "The number of sales of counterfeit products is going to go up because more and more people feel comfortable using the Internet to buy and sell goods, so criminals will be drawn to this distribution channel," concluded IACC's Montan.