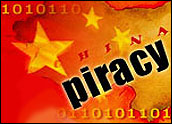 China has agreed to work more closely with the U.S. to curb the flow of pirated goods, the head of the U.S. customs agency announced Friday.
The agreement calls for China to more aggressively pursue within its own borders alleged producers of counterfeit goods that are seized by U.S. customs officials. The promise comes amid a fresh round of concern about a growing flood of fake products reaching consumers in the U.S. and other Western countries.
The two countries signed a memorandum of cooperation this week under which the customs agency will supply China with information on the source of seized goods, and Beijing will report back within 90 days on the status of efforts to track down those responsible, said W. Ralph Basham, commissioner of U.S. Customs and Border Protection.
"We've got to start dealing with the source of the problem," he said. "We can't expect to rely upon interdiction to be our tool in order to stop these products."
Food, Movies and More
U.S. interests have long been eager to have the Chinese government play a greater role in antipiracy efforts. From software makers such as Microsoft to Hollywood studios and record labels, millions of dollars are lost each year to pirated and unauthorized copies of applications, motion pictures and music CDs that flood back into the U.S.
In April, the U.S. filed two complaints with the World Trade Organization asking that agency to force China to fix "deficiencies in China's legal regime for protecting and enforcing copyrights and trademarks."
The problem extends well beyond the creative intellectual property area, however, with China now a source of counterfeit goods ranging from designer clothing knockoffs to food products that appear to be from name-brand companies.
Stakes Are Higher
Last week, Colgate-Palmolive warned that counterfeit versions of Colgate [*correction] toothpaste had shown up in some U.S. discount stores. The fake product contained a potentially dangerous and toxic chemical often found in antifreeze.
Up to 80 percent of all counterfeit goods seized in the U.S. originate from China, according to the customs office.
While business interests have long harangued against the relatively lax approach to stopping software and entertainment pirates, the potential risks to public health from food and counterfeit auto parts have significantly ratcheted up the stakes.
"We've got to go with a strategy that is dealing with where the source is and who is manufacturing — who's importing it, who's exporting it, and then start to come down on these companies, and start to make these penalties significant," said Basham.
Timing Is Key
The pledge to do more comes as China prepares to take the international stage next year for the 2008 Beijing Olympics and the U.S. reportedly offered China to help secure the games with information on terrorist movement.
It also comes as some technology industry executives have reported some progress in slowing piracy and raising awareness of the problem. In a report last year, the Business Software Alliance (BSA) said piracy in emerging nations such as China and India was starting to grow more slowly.
The same study found that 35 percent of software installed on personal computers worldwide in 2005 was unauthorized, counterfeit or otherwise illegal, amounting to $34 billion in losses to the software industry.
"Much more remains to be done," BSA President Robert Holleyman told the E-Commerce Times. "Piracy from all sources still threatens the future of software innovation and other business growth."
For U.S. companies, as with the government, dealing with China takes a delicate touch, Enderle Group Principal Analyst Rob Enderle told the E-Commerce Times. In disputes with other countries, the U.S. might refuse to export goods until more was done to stop piracy, but U.S. businesses can't support such as policy in China.
As much as companies want to see piracy stopped, the Chinese market represents decades of potential growth that can't be ignored. "Microsoft and other companies want to be agents for change in China and they need access to the market to make that happen," he added.
*ECT News Network editor's note: The original publication of this article stated that Colgate-Palmolive warned that counterfeit versions of Crest toothpaste had shown up on store shelves. Colgate-Palmolive does not manufacture Crest; it manufactures Colgate. The warning concerned counterfeit versions of Colgate toothpaste. Crest toothpaste is a Procter & Gamble product. We regret the error.