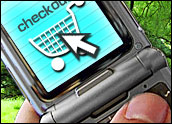 Have you ever walked into a big box store and seen scores of half-full shopping carts scattered throughout the aisles? It would seem unlikely, but for e-commerce retailers, abandoned carts are more common than you think.
Shopping cart abandonment has existed since the dawn of the e-cart, but how can retailers determine why customers leave? What can they do to reduce shopping cart abandonment and ultimately increase online sales?
Customers leave for various reasons, the most common being high shipping costs, requests for registration and personal information prior to checkout, and complex and cumbersome ordering processes. To address the issue of cart abandonment, an increasing number of retailers are getting creative by using online surveys as a way to reconnect with would-be customers who abandon e-carts.
Abandonment Surveys
Understanding the "why" of shopping cart abandonment enables retailers to address would-be customer concerns such as order complexity, site instability or Web site navigation issues, and to increase future conversion rates considerably, reducing costs and driving sales.
Abandonment or point-of-abandonment surveys are administered as Web site pop-ups or sent to would-be customers via e-mail. Hidden fields embedded in the survey software enable retailers to collect targeted customer information without relying on the customer to complete an extensive list of questions.
For example, the retailer may collect information along the lines of: products in shopping cart, shopping cart total (dollar amount), number of Web pages visited, specific products viewed, searches conducted and total length of time spent browsing on Web site. Retailers can then augment this data by asking one or more demographic questions and determine the profile of abandoners on their site.
Most importantly, this information can directly inform Web site and marketing process or interface modifications and ultimately help to reduce point-of-purchase abandonment. For example, retailers who receive feedback on the length of the checkout process may consider adding a progress indicator to each page of the checkout process to let customers know where they are in the process.
Less Cumbersome Than You Think
The number of steps in the checkout process may not significantly affect customer's purchasing patterns, but for many retailers a two- to three-step process is ideal.
The actual design and implementation of Web-based point-of-abandonment surveys is far less cumbersome and expensive than many retailers believe. The low-end survey tools of old put retailers on their own to create and execute online surveys.
In recent years, however, a number of feedback management companies offer online survey tools with dashboard interfaces, standardized questions and templates that allow end-to-end management, collection and feedback interpretation by in-house employees. In addition, more and more survey and feedback management providers offer pay-per-survey or flat fee survey options that appeal to a wide range of customer needs.
Possible Questions
In terms of survey implementation, it is important to remember to create simple and straightforward questions. Here are some important, direct response-oriented survey questions:
Why did [you] choose not to complete this purchase? This question may be open-ended or include options such as: no intent to purchase, poor user experience, security issues, price, shipping costs, etc.
What can we do to encourage you to complete a purchase at our store in the future? This question may be open-ended or give choices such as: improve user interface, improve Web site security, lower shipping costs, etc.
What is your biggest concern about shopping online? This question may be open-ended or give choices such as: security, online price versus in-store price, etc.
How frequently do you complete purchases online?
How frequently do you comparison shop online?
Retailers may also want to inquire about the individual's online purchasing patterns and demographic information such as city and state, education level, or the way in which a customer heard about the Web site. In addition, the retailer will want to know if a promotion drove the customer to the Web site, but did not result in a sale.
Understanding Customer Concerns
In order to increase survey response rates, retailers should consider offering customers who have abandoned their carts merchandise discounts as an incentive to complete the survey and, ultimately to increase purchasing likelihood.
Retailers should review survey results on a regular basis, depending on the level of Web site traffic and survey goals and objectives. First, retailers need to evaluate each question independently for specific trends or issues. Second, results should be filtered by demographic information to identify trends. Lastly, retailers need to compare results based on hidden field data to identify trends based on product type or time and date.
Online feedback solutions can help retailers understand customer pain points and concerns so that they can address them and revise Web site strategy and design accordingly. Retailers should carefully consider the goals of their online survey and collect only the information that will enable actionable insight into the would-be customer.
---
Dean Wiltse
is chairman and CEO of
Vovici
. He brings more than three decades of experience in the marketing and technology industries to the company.
---