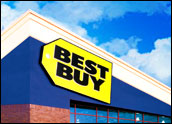 While apparel, department and specialty stores bemoan a 2007 less-than-stellar holiday sales season, consumer electronics retailer Best Buy announced Friday that its total revenue for the fiscal month ending Jan. 5 rose 11 percent to US$7.3 billion, meeting the company's expectations. That increase was due in part to the net addition of 127 new stores during the past 12 months. For the same period ending Dec. 30, 2006, the electronics giant reported total revenue of $6.6 billion.
With December's encouraging sales numbers in, Best Buy executives reaffirmed their expectation that it will see earnings between $3.10 and $3.20 per share, an approximate growth rate of 13 percent.
"Our fiscal December revenue results finished in line with our expectations due to solid execution and focus on customer needs. We expect to deliver another strong year including annual revenue of approximately $40 billion," said Jim Muehlbauer, interim enterprise chief financial officer.
Video Games, Flat Panel TVs and Notebooks
A calendar shift, which saw the key post-Thanksgiving shopping week fall fully within November, resulted in a slim 1.5 percent increase in same-store sales year-over-year for December. However, adjusted for the calendar shift, sales would have increased by 3 percent, Best Buy said. Increases in sales of flat panel TVs, notebook computers and GPS devices drove the rise in same-store sales.
"A same store sales result of 3 percent or higher reflects a healthy U.S.," Jharonne Martis, retail analyst at Thomson Financial, told the E-Commerce Times.
The strongest growth in sales came from entertainment software, which saw a gain of 8.2 percent in December, driven by solid sales in video gaming hardware and software. The boost, according to Best Buy, was due to the increased availability of hardware and wider assortments of games and accessories.
The company's home office category also saw gains of 4.7 percent for same-store sales powered by a double digit boost in notebook computer sales.
However, declines in CD and DVD purchases and home theater installation partially offset gains in entertainment software and appliance.
Best Buy's consumer electronics category did not fare as well, posting a 3.1 percent decline in same-store sales. A low double-digit same-store sales gain in flat-panel TVs and a triple digit same-store sales gain in GPS devices were offset by drops in projection and tube TV sales as well as MP3 players.
The No. 1 electronics retailer's numbers are part of one of the few positive areas in the U.S. economy, said Jenny Pareti, director of communications for the Consumer Electronics Association.
"The consumer electronics industry is a bright spot in the U.S. economy. U.S. consumer electronics shipments totaled $161 billion in 2007, and CEA is projecting a healthy 6.1 percent revenue increase in 2008. This outpaces the overall retail growth rate, which is estimated at 4 percent growth. This also follows the 2007 holiday season when consumers desired CE products — specifically computers and big screen TVs — more than clothes, money and even peace and happiness, according to CEA's 14th annual holiday survey," she told the E-Commerce Times.
"Electronics are always big sellers during the holiday season. On the other hand, sectors like apparel suffered in December due to a lack of a fashion trend," Martis echoed.