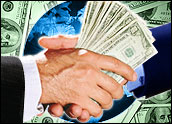 An uproar hit the Web over the weekend when it was discovered an employee at consumer electronics company Belkin had offered to pay people to write positive reviews for his company's products, even if they hadn't tried them. The reviews may have been fake, but the outcry on the Internet over his take on online marketing practices is real and, as it turns out, very loud.
The Daily Background's Arlen Parsa was the first to dig up the story regarding Michael Bayard, who the Background said had posted several requests to Amazon's Mechanical Turk work marketplace Web site seeking reviewers for Belkin products. Bayard was offering to pay 65 cents per positive review.
"Write as if you own the product and are using it," Bayard suggested. "Thank the website for making you such a great deal. Mark any other negative reviews as 'not helpful' once you post yours."
When Parsa broke the story on Friday night, he posted a copy of Bayard's request and his LinkedIn profile, which identified him as a business development employee at Belkin. Parsa, who normally writes about politics, had suddenly launched Belkin-gate on the Web; the story gained steam over the weekend, getting picked up by CrunchGear, Gizmodo, Slashdot, Engadget and other tech-related Web sites.
On Sunday, Belkin president Mark Reynoso acknowledged the incident, apologized for it and promised to "work earnestly to regain the trust we have lost."
More From Belkin
Belkin had not responded to a request for comment from the E-Commerce Times by press time, but Reynoso's letter — posted on the company's Web site — expressed "great surprise and dismay" upon learning that an employee had sought positive reviews for payment.
"Belkin does not participate in, nor does it endorse, unethical practices like this," Reynoso said. "We know that people look to online user reviews for unbiased opinions from fellow users and instances like this challenge the implicit trust that is placed in this interaction. We regard our responsibility to our user community as sacred, and we are extremely sorry that this happened."
The company quickly removed all associated postings from the Mechanical Turk Web site, and was working with online channel partners to ensure that any "positive" reviews posted as a result of the requests were also removed, Reynoso said. "It's also important to recognize that our retail partners had no knowledge of, or participation in, these postings."
The letter does not detail any disciplinary actions regarding Bayard or any previous alleged unethical activities he may have engaged in while an employee of Belkin. The Daily Background on Monday reported that Bayard himself may have written positive reviews of Belkin products for Amazon while serving as his company's sales representative to the online retailer.
A Company's Currency Is Trust
The practice is called "Astroturfing:" creating an artificial grassroots initiative to advance a political or business agenda. The Internet's rise has created new opportunities for unethical marketing behavior, Steve Rubel, senior vice president of the marketing firm Edelman Digital, told the E-Commerce Times.
"I'm still surprised that this goes on, that after a number of high-profile incidents, with brands being burned, that people would have realized you can't do this," Rubel said. Rubel writes the Micro Persuasion blog as part of his role as Edelman Digital's director of insight.
"If you're going to do any type of engagement online, the more transparent, the more open you are, the more you say what you're doing and why you're doing it, the more you engender trust," Rubel said. "Trust is king right now."
Ironicallly, it was Rubel's parent company that was responsible for one of the previously mentioned incidents that called online marketing trust into question. In 2006, a blog supposedly written by a couple touring the U.S. in a recreational vehicle and stopping at Wal-Marts to talk with happy, helpful employees was not what it appeared to be: Wal-Mart was paying for the couple's travel expenses. Edelman had organized the trip on behalf of a group funded by Wal-Mart.
That's part of the reason Rubel says he is surprised in 2009 we're still hearing about these things.
"There are people who do this maliciously and there are people who just don't know, who may be naive. Maybe if anything the buzz on all this will educate people that this is not a best practice, not a way to operate online. This could act as a deterrent."
Rubel gives Reynoso and Belkin high marks for acting quickly — on a weekend, no less — to address the issue. He also would like to think it won't scare companies aware from using Web 2.0 techniques to engage customers. "If you're talking to people reviewing your product and having a two-way dialogue, and giving them information to form their own opinion, that's fine, it will work," he said. "And companies should put their individuals out there — not just C-level executives, as many as possible. But if they're going to do that, make sure it's a clear conversation, with an understanding of the do's and don'ts."