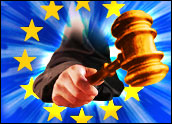 Google suffered a legal setback Tuesday as a Belgian court ruled that the search giant violated copyright law by publishing portions of a newspaper's stories on Google News without prior authorization.
In a closely watched case that has moved in stops and starts since last summer, a higher court upheld an earlier ruling requiring Google to remove snippets of copyrighted news stories from the Google News version available in Belgium.
Belgian newspapers, represented by the trade group Copiepresse, had argued that Google profited from posting those extracts and selling advertising alongside them. The group had also complained because the content could remain available even after newspapers stopped displaying them for free.
"Google cannot claim to be an exception under copyright law," the court said in its decision.
Penalties Reduced
Copiepresse had brought the case on behalf of the French and German language publications in Belgium. It has also pursued action against Yahoo France on the same grounds.
The higher court ruling was not a complete loss for Google. Though it upheld the injunction, the court dramatically reduced the daily penalties Google would face if it published material from the copyright-protected sources.
The original ruling had provisions for penalties of more than US$1 million per day for violations; the new ruling reduces that penalty to about $33,000 per day.
To License or Not to License
The Belgian ruling should have a limited impact on Google and its shares were up even after word of the ruling reached the United States.
However, the decision serves as a reminder of Google's sometimes contentious relationship with content owners, highlighting the pitfalls involved in balancing content providers' needs against its desire to publish as much print and video content as possible.
"The honeymoon period is over for Google when it comes to content owners," search engine expert John Battelle told the E-Commerce Times. As it brings in billions a year in revenue, "every step it takes now is viewed in a different light by media companies."
Copiepresse, meanwhile, said it was pleased with the ruling and that it would be willing to discuss licensing protected stories to Google, but said Google should initiate any such talks.
Google complied with the original order to remove content, although it appealed the decision on the basis of exemptions in copyright law that allowed for publishing synopses or abstracts of copyrighted work.
Google indicated Tuesday that it would appeal the Belgian court's latest ruling. "Search tools such as Google Web Search and Google News are of real benefit to publishers because they drive valuable traffic to their Web sites and connect them to a wider global audience," the search company said in a statement.
In the United States, Google and other search engines enjoy the protection of the Fair Use provisions of the Digital Millennium Copyright Act (DMCA).
That law allows search engine sites to display material that's freely available online, though they must comply with requests to remove material that can be shown to be copyright protected.
Google's Balancing Act
The relationship between Google News and original news sources has long been considered a symbiotic one, with news outlets gaining visibility on the portal's site and benefiting from increased traffic to their pages when users click through.
The Belgian case could have wider ramifications, however, if content owners see the possibility of licensing content directly to Google. Nearby European countries, in particular, are seen as likely next-stage battlegrounds as many have similar copyright laws.
In fact, the European Commission said Tuesday that it might consider taking up the matter to create a standard that would apply across the European Union.
Google and other search engines rely on free content from third parties to make their business models work, claimed Sterling Market Intelligence analyst Greg Sterling, noting that both Yahoo and MSN have been warned by Copiepresse on this same issue although only Google was sued.
"The various legal challenges Google faces are partially about its market power and the desire of some parties to use the judicial system to create better negotiating conditions for themselves," Sterling said. "Google's global brand power, revenues and market position are now causing some to act in aggressive, shrewd or desperate ways to try and protect their businesses."