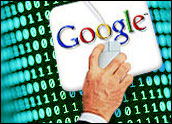 Google further solidified its paid search lead in the fourth quarter, nearly tripling its profit amid a 38 percent jump in revenue as the search giant continued to burnish its reputation as the can't-miss Internet company.
Google secured net income for the quarter of US$1.03 billion, or $3.29 per share, up from $372.2 million a year ago, while revenue — after payments to affiliates — was $2.23 billion.
Google exceeded consensus forecasts for profit and just about matched forecasts from analysts on the revenue side.
However, the company's high-flying shares dipped slightly after the earnings report was released, a sign that Wall Street may harbor unrealistic expectations that the company will blow away forecasts each and every quarter.
Google shares were lower in after-hours trading after the announcement and were down in morning trading Thursday, falling $12.49, or 2.5 percent, to $489.01.
Google noted that revenue was up 20 percent from the third quarter of 2006, a growth rate that well outpaced the 15 percent that rival Yahoo posted last week.
"Business continues to be very good here at Google," CEO Eric Schmidt said in a conference call. "We are gaining share in almost every country and we expect that to continue."
In fact, overseas growth was a major highlight of the quarter for Google, which said 44 percent of its total sales came from non-U.S. markets in the quarter.
Google held firm to its practice of not issuing forward-looking guidance, but most analysts said there is little reason to think Google cannot continue to post strong profit and sales expansion for some time. In fact, many of Google's most recent initiatives — from radio and newspaper ads to its YouTube purchase — have yet to begin paying dividends.
A Larger Mission
Although Internet search remains at its core business, Google has developed a "much larger business mission" — to provide more information and more personalized services for users, to cultivate more partnerships, develop more forms of advertising and offer more related services, such as the Google Checkout payment service, Schmidt said in the conference call.
The Google Checkout service gained traction in the fourth quarter, with 20 percent of the largest Web retailers now offering it as an option to customers, the company said, adding that luxury goods retailer Blue Nile became the latest high-profile customer to sign up this week.
Online shoppers are "drawn to Checkout badges" that merchants enrolled in the program display, said Google co-founder Sergey Brin. "We've seen substantial increases in their likelihood of both clicking on the ad and then, subsequently, a significant improvement on the conversion rate," he said.
Google's heavy Checkout promotions, which included steep discounts for first-time users, cost it about $35 million in the quarter.
2007 Trends
Though they did not offer a financial forecast, Google executives did discuss the trends they expect to be important in the coming year.
"It is clear that 2007 will be the year that mobile search query traffic grows substantially," Schmidt said, though he added that the financial impact from that trend will likely be seen in 2008.
"Our current model is to use targeted text ads, and we have evidence that the monetization of those ads is higher than in non-mobile uses. So, it looks like the advertising revenue on a per-search query is likely to be significantly higher on mobile than on non-mobile," he noted.
On the video front, Google is currently focused not on deriving revenue and profit from its YouTube acquisition but on user adoption. "We are experimenting with various advertising models," Schmidt said. "User adoption and advertising are growing very quickly. It looks like early returns about the justification around the acquisition, the calculations that we did all look very positive to us. We are very, very, very pleased."
Google continues to evaluate ways of becoming a player in traditional television advertising, which would be a new area for the company along with radio ads now being tested and the newspaper ad placement service it recently launched.
"It is fair to say that whatever we do will be new and different from the way [TV ads] are currently sold and marketed," Schmidt said. "With respect to television, radio and video advertising, there are many reasons to believe that the targeting technology that we have invented can really apply well, that people will pay — advertisers in particular — will pay much higher rates for ads that are targeted than ones that are untargeted."
Loading Up
Google ended 2006 with $11.2 billion in cash and equivalents. It also continued to dramatically expand its employee base, again adding more than 1,000 workers during the quarter — about 14 people every day — to end the year with 10,674 employees worldwide.
In the conference call, Google CFO George Reyes said the company expected to continue to hire in large numbers during 2007 and would also continue to invest heavily in servers and other technology to keep its competitive edge.
Google continued to dominate the search landscape. Nielsen//NetRatings reported Wednesday that traffic to all Google sites grew 24 percent over a year ago, to an average monthly audience of 108.3 million users.
Google accounted for more than 3 million searches in December alone, a 23 percent year-over-year increase, NetRatings said.
A separate report from comScore said that Google handled 47 percent of all searches in the fourth quarter, up from 40 percent a year before, while Yahoo saw its share fall to 28 percent from 29 percent; Microsoft fell from 14 percent to 11 percent.
Google may have spoiled investors by handily beating forecasts in all but one of the 10 quarters it has posted results since going public in mid-2004, search engine expert and Google book author John Battelle said.
"The stock seems to be priced already for crushing performance," he noted.
Google's growth quest could start hampering profits, as it invests heavily in developing the expertise needed to move into new markets, such as radio, print and TV ads. On the other hand, Google's aggressive push to expand and continually improve its technology helps grow the industry by spurring competitors to achieve similar heights.
"Google is pushing the industry to expand its offering and create better versions of existing applications," said Piper Jaffray senior analyst Safa Rashtchy. The result, he added, is a "much more dynamic industry where innovation is pushing forward at much faster speed than the past few years."