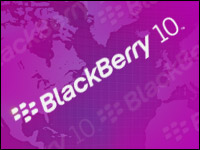 Just days away from Research In Motion's Jan. 30 launch of the BlackBerry 10 platform, which includes a new operating system and a fresh lineup of phones, the advertising machine has yet to churn into action.
That doesn't mean RIM isn't busy building buzz, however. Several press releases have fueled news stories, tweets and mentions across social media. In addition, events are also helping build excitement toward the anticipated launch. Bits of information on the BlackBerry 10 platform have also leaked to media, though the leaks are not likely coming from RIM.
RIM's BlackBerry 10 has the ability to make or break the company. After a delayed launch, RIM has done a good job helping build anticipation for its BlackBerry 10 offering. The company is holding the reins on a steady stream of news stories, reviews and media commentary that is helping hype the launch.
Building Momentum
"The momentum that they've been building has been positively consistent, and their messages have all been building upon one another," David Libby, public relations and social media consultant, told the E-Commerce Times. "I have seen statements and press releases. It's part of a normal course of business. This is not inconsistent with the way that this phone would be marketed.
More than 1,600 North American businesses have registered for the a training program for RIM's new BlackBerry 10 handsets and software, and some 1,000 of the registered customers have begun using the BlackBerry 10 Ready program since early December, RIM announced.
News continues to filter out to media about the BlackBerry 10 release.
"The BlackBerry 10 campaign is a reasonably well-executed PR campaign — no more, no less. That's not a dig. The real question is whether this is a powerful enough campaign to get the right job done, all by itself. I don't think so. RIM is missing something critical when you look at the campaign from a broader, strategic perspective," Greg Verdino, founder and principal strategist at Verdino LLC, told the E-Commerce Times.
A few paid ads are appearing, including placements in The New York Times. It is expected that more will begin to appear closer to the launch date. The company understands the importance of its relationship with media, and plans to work that channel through the launch at the end of the month. As to specific media buys, a stream of press releases and other activities, RIM isn't commenting.
"We understand there is an awful lot of excitement on BlackBerry 10, and we are excited to launch on Jan. 30," Nick Manning, RIM global corporate communications manager told the E-Commerce Times.
Ads might begin to appear right in time for launch. But will a late-stage ad push be in time to work alongside the buzz the media and social media platforms are building?
"In order to achieve the greatest long-tail effect and success from product releases, marketers need to develop fully integrated campaigns that optimize different channels. It's just not as simple as buying high-reach media anymore; the broader ecosystem truly matters, including earned media," George Musi, head of cross-platform analytics at DG MediaMind told the E-Commerce Times.
The launch of BlackBerry 10 was delayed for more than a year, and the Jan. 30 launch is do-or-die time RIM has worked tirelessly to promote this launch, but have a few elements been held off too long?
"Product releases that used to be a one-day thing have turned into six- to eight-week marketing events. It starts with incorporating a pre-release exposure strategy i.e. a brand releases details about its product (via press release or leaked news), then teaser videos or sneak preview clips, followed by releasing the full commercial and in some cases, extended versions with more content, contests, etc. Some will use social video, uploading the commercials to YouTube and promoting them through Facebook and Twitter; making it easier for consumers to see, share and discuss the product," said Musi. "This essentially moves the conversation that takes place after product is out to before the product is released to generate excitement, build-up anticipation and achieve buzz and media coverage around the product itself. All in an effort to garner momentum and to maximize overall exposure. This type of added audience exposure is priceless — there's potentially millions of dollars of unpaid exposure being gained on top of the millions of impressions it will obtain because of paid media placements."
No Singing the Blues
Buzz around the launch of BlackBerry 10 has inspired tweets, mentions on Facebook, and even a rap song. Houston-based artist LIL'E recorded "No Sleep Till BlackBerry 10," a song praising the features promised on BlackBerry 10 phones and the BlackBerry 10 operating system. The artist has a LIL'E app, which is available for BlackBerry and Android handsets and promoted on his site. LIL'E Tweets under the handle @BTBREPRESENTA, and currently has a BlackBerry symbol for his icon. A steady stream of tweets talks about BlackBerry 10.
Among the business community, RIM needs the buzz to reinforce its BlackBerry position, but might not gain more ground.
"Based on what I'm seeing in the marketplace, the PR aims to make RIM's technology credible to IT decision-makers and reassert its relevance for app developers — I see this in both what they're saying and where they're saying it. All necessarily, but not likely to do much more than preach to the choir or — at best — deliver an incremental uptick in awareness and interest. That's not quite the shot in the arm RIM needs," said Verdino.
Driving Demand
"RIM needs to leverage the BlackBerry 10 launch to re-assert its relevance and drive a dramatic increase in demand. They need to make the BlackBerry sexy again — and not only with corporate IT buyers but with corporate and consumer device users," he said. "To do that, they need big, bold, assertive brand marketing that sends the marketplace a clear signal. Something that says, 'we're back, we're better.'"
This is especially important at a time when BYOD is picking up steam. Right now, iOS and Android own the mobility conversation. The prevailing view is that "BlackBerry is just some hunk of hardware that stays in the briefcase nights and weekends. That has to change for BlackBerry 10 to really deliver for RIM. And that won't happen through business and tech PR alone," Verdino explained.
As news comes out about BlackBerry 10, there are a number of stories touting leaked information. BlackBerry declined to comment about these leaks. Most likely, they are coming from outside the company, and certainly not from official channels.
"RIM is a public company. If they leak information it could be seen as a forward-looking statement, like they are trying to change the stock price," said Libby. "Even having lost the market share, like they have with the iPhone, I can't imagine that any public company would take that risk."
While leaks are often bad news for companies, the leaks appearing in the press are only helping the already favorable buzz for the platform, Libby said.
"They have a lot of positive news."