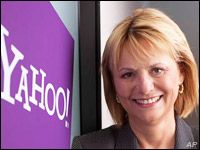 The management organizational chart at Yahoo suddenly has fewer brackets on it, and the lines from those brackets now lead toward one name: New CEO Carol Bartz, who Thursday announced the first steps in realigning the company's executive structure.
As many analysts and tech bloggers expected, Bartz's moves are designed to help push Yahoo back to its Internet startup roots, with the ability to once again turn on a dime by streamlining the corporate decision-making process. "I'm rolling out a new management structure that I believe will make Yahoo a lot faster on its feet," Bartz wrote on the company's blog, Yodel Anecdotal. "For us working at Yahoo, it means everything gets simpler. We'll be able to make speedier decisions, the notorious silos are gone, and we have a renewed focus on the customer.
"For you using Yahoo every day, it will better enable us to deliver products that make you say, 'Wow,'" Bartz writes.
Those following the company's travails for the past couple of years may have been wowed by the announcement, also made Thursday, that chief financial officer Blake Jorgensen would be leaving the company as soon as a new CFO is found. It is one more high-level departure, but one analyst said it paves the way for Bartz to install her own team — and management style — at Yahoo.
The New CEO's First Steps
"It's positive so far. She's decisive," Steve Weinstein, analyst for Pacific Crest Securities told the E-Commerce Times. "She's made tough decisions already. We'll see what the ultimate structure looks like. We know some people are moving out, but we don't know who she's bringing in."
A new CFO will be just one new critical team member for Bartz as she reshapes Yahoo, Weinstein says. She also needs a new head of mobile services and a new leader for Yahoo News. Those who are staying include Chief Technology Officer Ari Balogh, who now heads up the products division, and Hilary Schneider, who will lead North American operations. She was formerly head of company advertising/publishing. All other global business regions will answer to one executive not yet chosen.
What to make of placing your CTO in charge of products? "I think she wants to speed up development and time-to-market with products, and that's certainly something that will do that," Weinstein said.
The New Sheriff in Town
Bartz's blog post leaves no doubt that the days of many hands touching all decisions at Yahoo are gone. "There's so much great energy and frankly lots of optimism," she wrote. "But there's also plenty that has bogged this company down. For starters, you'd be amazed at how complicated some things are here."
After fielding calls from angry customers — apparently including advertisers — Bartz said she is creating a new Customer Advocacy Group to assist the existing customer care team with more resources. "I've noticed that a lot of us on the inside don't spend enough time looking to the outside. I realized we could do a better job of listening to and supporting you."
Bartz writes about the strength of the Yahoo brand and its place in the history of American business and the Internet. "But in the past few years, we haven't been as clear in showing the world what the Yahoo brand stands for. We're going to change that. Look for this company's brand to kick ass again."
Weinstein says the moves to streamline the executive team and recommit to customer service are expected and commendable. But analysts will be looking for more specifics over the next few months regarding which industry segments Bartz and Yahoo will focus on for growth, and which will be minimized or discarded altogether.
"I think what we haven't really heard yet is what she wants Yahoo to look like going forward," Weinstein said. "That's going to be the more important announcement, and I'm hoping we'll get that on the next earnings call."