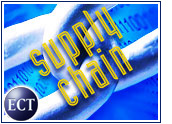 Before long, business-to-business (B2B) e-commerce may become a misnomer. That is because opportunities for online innovation and value creation reside more within multipartner collaboration than in transaction processing, analysts say.
The prospect of "automating the entire purchasing process seems dim in the near future," Jupiter Media Metrix analyst Jon Gibs told the E-Commerce Times. "Automating the supply chain after the deal is made is more likely."
Often mistakenly equated to the Internet, the World Wide Web has under-delivered as a business collaboration tool and has some analysts forecasting a post-Web era of Internet commerce. By 2006, the Web will be overtaken by locally executed software applications and networked microchips that comprise an "X Internet,"according to Forrester Research.
While some industry observers are not as bullish about non-Web predictions, most agree that the future of e-business is in collaboration, not in purchasing.
No Time-Outs
The problem with Web-based collaboration, say analysts, is that it engenders costly latencies within every phase of cross-partner communication.
"The point-of-sale data that consumer packaged goods (CPG) retailers provide their suppliers today is typically 10 to 12 days old," Forrester senior analyst Navi Radjou told the E-Commerce Times, "dampening suppliers' capabilities to rapidly respond to demand swings."
The Web's undependable uptime and insufficient integration capabilities are to blame, Radjou said.
Indeed, 70 percent of business-to-business sites are unreliable, crippled by broken links and time-outs, according to a recent Forrester study. What is more, only 18 percent of firms have succeeded in using Web-based technologies to integrate the majority of their partners into their own internal systems, according to related research from Forrester.
World Wide Yonder
To combat these collaboration deficiencies, manufacturers, retailers, and service firms will come to rely on Internet solutions that go beyond the Web, say some analysts.
Even today, early adopters like Walmart and Japan's 7-Eleven are using Internet-enabled point-of-sale systems like SurePos 700 from IBM (NYSE: IBM) to track daily store-level data and push inventory management responsibility onto suppliers.
These point-of-sale systems align supply and demand in real time and result in reduced inventory carrying costs, providing a huge edge on sluggish competitors, Radjou said.
Concrete Mix
The depth and breadth of real-time data-monitoring throughout the supply chain will explode by 2006, the analyst said, when tiny microchips will be embedded intophysical objects like pallets, trucks and machine tools to track the objects' identity, status and location and provide other decision-enabling information.
For example, Mexican concrete supplier Cemex has already outfitted its trucks with computers and GPS receivers to automatically coordinate the trucks' position with plant output and customer orders. Theresult: a delivery window that used to average three hours has been reduced to 20 minutes … and a cool US$100 million in savings so far.
"By 2004, costs of extended Internet technologies like 'active' radio frequency identification (RFID) tags will drop below 1 cent, facilitating their mainstream adoption across industries," said Radjou.
Pacing Change
Some analysts say Forrester's predictions for non-Web-based collaboration tools are too bullish, however.
"I don't see a strong movement away from Web-based platforms in the near future," said Jupiter's Gibs.
Matching supply and demand data throughout the supply chain should indeed be the next milestone for e-business, said Gibs, but it is too early to look much beyond the World Wide Web for practical answers.
On the horizon of B2B e-commerce, Gibs sees peer-to-peer networking and dynamiccatalog-to-catalog communication slowly overshadowing Web-based commerce, but a significant level of adoption is still at least ten years away, he said.
To the Laggards
Impeding the uptake of advanced online collaboration tools is a collective reluctance among corporate purchasing managers, said Gibs.
"Purchasing managers are typically fairly slow on the technology adoption curve," added Gibs. "Many companies are still moving from fax and electronic data interchange (EDI) to the Web."
Aside from technology adoption, trust among trading partners must be pervasive in order for systems integration and robust collaboration to occur, suggested Gibs.
"Once we move beyond this relationship issue, the technology piece is fairly trivial."
Starting Within
Regardless of where a company falls on the adoption curve, it is clear there is significant ground to be covered to achieve optimal supply chain collaboration.
Indeed, 38 percent of manufacturers lack total visibility into their own plant operations, noted Radjou.
"Before trying to gain visibility into their suppliers' shop floor, manufacturers should first gain visibility into their own factory floor," he said.