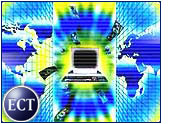 AuctionWatch.com, a software provider that helps small businesses and individuals manage their online auctions, announced a new suite of products Monday designed to help larger retailers and manufacturers dispose of excess inventory at eBay and other online auction sites.
"Online marketplaces are exploding as retailers and manufacturers recognize that the key to high sales velocity on the Internet is bringing products to qualified consumers," said AuctionWatch chief executive officer Rodrigo Sales. "The high buyer density of eBay and other online marketplaces offers unmatched sales potential for companies seeking to expand their customer base and drive revenue growth."
Sales added: "Many of our customers are finding that online marketplaces represent a more profitable alternative for moving refurbished or last season's merchandise than traditional liquidation channels."
All Tied Up
Two of AuctionWatch's new software programs, Sales Manager-Business Edition and Enterprise Solution, allow companies to tie their auction offerings into their existing inventory programs and/or e-commerce systems.
Targeted towards medium and large businesses, Sales Manager-Business Edition allows a merchant to tie its auction offerings to its existing inventory database and allows batch filing for automated handling of payment and shipping information once items are sold.
Companies with existing e-commerce software and systems can use AuctionWatch's Enterprise Solution to create a customized integration between the merchant's current system and its online auction listings. AuctionWatch said that Enterprise Solutions would allow merchants to sell via online auctions while using their own distribution system to handle payment and shopping.
Custom Work
San Bruno, California-based AuctionWatch said it will help those sellers who opt for QuickStart market, list, and sell their merchandise. Additionally, AuctionWatch will provide the fulfillment, payment and shopping information necessary to consummate the transaction.
According to AuctionWatch, the new products can be customized to fit a specific customer's needs.
Auction Action
Online auctions are no longer just an electronic version of garage sales, as more and more companies and government entitites are turning to auctions as an additional sales channel.
For example, Sun Microsystems uses eBay to sell workstations, servers and software, while earlier this month luxury goods e-tailer Ashford created an outlet store at eBay to sell leftover and closeout merchandise on the auction site. Ashford is selling goods in both fixed-price and auction format through eBay.
Even Uncle Sam is turning to online auctions to sell excess goods and services. A number of government agencies currently use eBay and other online auction sites to auction off surplus property.
According to Nielsen/NetRatings and Harris Interactive, consumers spent US$556 million at online auction sites in May 2001. AuctionWatch said that its users list over 2 million items each month at eBay.