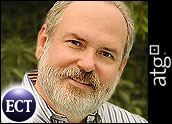 As e-commerce continues to thrive, online retailers keep raising the bar higher for each other. Meanwhile, consumers these days don't just want lightning-fast online checkouts — they expect flawless and customized shopping experiences too.
At last week's eTail Palm Desert, Cliff Conneighton, senior vice president of e-commerce platform providerArt Technology Group (ATG), an eTail exhibitor, sat down with the E-Commerce Times to discuss the obstacles that face today's etailers and the solutions that his firm offers.
A Serious Player
With the tagline "Get Serious About E-Commerce," ATG isn't fooling around. The 17-year-old, Cambridge, Mass.-based company has a list of clients that reads like the who's who of online — and offline — shopping, including Best Buy, Target, Nike, Nieman Marcus, Mercedes-Benz, Sephora and OfficeMax. Its client segments — both business-to-business (B2B) and business-to-consumer (B2C) — include retailers, manufacturers, telecommunication, high-tech, and media and entertainment firms.
Companies like these flock to ATG because "we are unique, in that we offer an e-commerce platform both as licensed software and as an on-demand service," Conneighton remarked.
He cited Gartner's recent recognition of ATG as a leader in the B2B and B2C e-commerce markets, and last year's Forrester Research report that ranked ATG as the No. 1 platform provider for B2C sites.
The company's strength is "around personalization," he added. "We believe that the secret to improved sales on the Web is to deliver the right offer to someone at the right time. [You have] to know something about who you're selling to, and try to show them the goods and the offer that's more relevant."
Dedicated Research
The personalization concept is easy, Conneighton continued. It doesn't mean putting a customer's name in lights at the top of the Web site, but rather, anonymously watching customers' behavior and buying history.
"It's the simple concept that people buy what they want to buy — so don't show them stuff that they don't want to buy. The more you can show them stuff they want to buy, the more likely they are to buy it."
Personalization might not be so complicated, but competition these days surely is — and online retailers need to conduct in-depth research on how to continually appeal to consumers, he noted, adding that a lot of companies are indeed realizing the importance of their platforms and are planning major platform reprogramming in the next few years.
"You can't just wing it anymore. You need to get real serious to compete, and that's your challenge. It used to be that your Web site was designed by some Web guy who thought it was cool to do it a certain way — and it's not like that anymore," Conneighton explained.
Online and Offline Disciplines
For example, ATG clientAmerican Eagle Outfitters continually uses Web analytics measurements and tests its Web site. The company applied the same disciplines from its stores to its site, he noted.
"They take that very seriously — how they lay out their stores, how they promote, how they price, and what their floor plan is. It's that exact same rigor that they apply to their Web site — testing, analytics — and nothing is left to chance," Conneighton said.
American Eagle began using ATG's platform a year ago, and since then has more than doubled the revenue on its Web site, he noted. The company has "now one of the most successful apparel Web sites, and it's because they just took it to the next level," he added.
ATG is "the last e-commerce platform you'll ever need," Conneighton said, adding that most of the companies that ATG sells to are already involved with another vendor, and "they've run out of gas. They want to step up to something that's more powerful."
The On-Demand Option
However, potential clients shouldn't assume that they need to be an online expert or have a lot of money to sign up with ATG. Among other types of firms, ATG targets the "poor merchant" with its on-demand model, Conneighton pointed out.
On-demand "reduces people's risk. It reduces the skill that they need to have in order to put the system up, and it's fairly less costly than trying to build things up yourself," he continued.
Nevertheless, if online retailers still don't understand personalization, they shouldn't fret. ATG's "mission in life is to educate the world this year on what that means and on how merchants can better use personalization to increase conversion rates," Conneighton concluded.