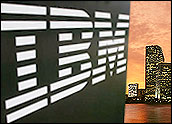 On Thursday, IBM rang the opening bell of the New York Stock Exchange in celebration of 100 years since its founding. The company evolved from a pre-World War I alliance of firms manufacturing tabulating machines and clocks into a global computer giant that helped to usher in the modern age.
IBM boasts an impressive number of patents and has improved many technologies over the years, including punch cards, processors, transistors, storage, word-processors, databases and OSes. IBM has grown from 1,300 employees in its early years to 426,000 employees today.
Big Blue will celebrate the big 100 in a ceremony attended by 1,000 employees and guests at IBM Research Labs in Yorktown Heights, N.Y. IBM is marking the milestone with the release of a book and a film.
The book, Making the World Work Better: The Ideas that Shaped a Century and a Company, is a chronicle of IBM's rise to the top and the importance of its presence in various industries.
The film, "Wild Ducks," is a tribute to company clients that have implemented new approaches and unconventional wisdom to building their businesses.
IBM is also launching "Colloquia," a series of business and academic forums. The company will gather key forces in the industry to discuss future technological advances and how they will affect different aspects of life including the environment, healthcare and communication.
IBM did not respond to the E-Commerce Times' request for comments by press time.
Not Resting on Laurels
IBM has played a large role in developing business and science in the last century, and its recent endeavors show that it is preparing to achieve equally significant milestones in the next 100 years.
The company's new age supercomputer, Watson, made headlines when it competed on the game show, "Jeopardy!" head to head against some of the world's best human competitors. However, Watson is much more than brainy entertainment.
"The implications of Watson indeed go far beyond a popular television show, and the consequences for the future are extraordinary," Darren Hayes, chair of the computer information systems program at Pace University's Seidenberg School of Computer Science and Information Systems, told TechNewsWorld earlier this year.
"Healthcare and medicine will definitely benefit," he said. "Intelligent systems will one day be able to accurately provide diagnoses based upon symptoms, medical tests, medical history, family history and reference journals."
IBM is also developing new ways of streamlining the functioning of the modern city to address the growing problem of urban sprawl, especially in developing countries. It seeks to play a role in making cities more efficient and cleaner from an environmental perspective.
"Their Smart Cities initiative is impressive," Rob Enderle, principal analyst at the Enderle Group, told the E-Commerce Times. "It's a program for cities of the world, designed to make them more efficient and make their services more cost-effective. That's a major undertaking. They're looking at everything above and underneath the cities."
IBM has also funneled resources into nanotechnology, developing micro-machines that will likely have a powerful impact on healthcare and technology in general.
"Out of their labs they're doing work to build machines and technology at the molecular level," said Enderle, "so they're very big with cities, as well as very small on the nano level. Some of their microchip technology could be part of the nano technology in electronic instruments. They're doing things that are ever smaller and ever faster."
IBM will still be an important force in the next hundred years, Enderle maintained. It has helped bring us into the future, and it still stands among a line of innovators envisioning the next steps for the human race.
"Research and development is an essential part of the company, from conservation on the large scale to micro-technology on the small scale," noted Enderle.
Systems, Software and Services
If IBM wants to have another great century of business, then the company needs to further cement itself into the technology world. There are many aggressive competitors looking to grab a larger piece of the pie.
"I think IBM's future lies in their current areas of strength: systems, software, and services," Jim McGregor, chief technology strategist at In-Stat, told the E-Commerce Times.
"However, with increasing competition, IBM must adapt to new segments of the market while continuing to reduce the costs of its solutions. IBM still has a presence in semiconductors, but not nearly what it was 20 years ago. As a smaller portion of their business, this may eventually be an area the company chooses to exit completely."