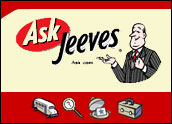 Ask Jeeves launched a new paid listings program today, putting an automated, self-service auction system in place that mimics what search leaders Yahoo and Google offer to advertisers.
The company said the Ask Jeeves Sponsored Listings system would make it easier for advertisers to buy, manage and optimize their paid search listings campaigns. Analysts say the open auction system is similar to the approach that both Google and Yahoo use to offer premium placement to advertisers.
The service replaces the existing "Premier Listings" offering, through which advertisers negotiate directly with the search site for placement on a static basis. The new service is already being made available to existing advertisers on to company's search site, Ask.com, and the Ask Jeeves affiliate network and will be made generally available later this month.
Optimizing Advertising
The upgrade is the latest of several changes made since Ask Jeeves became part of the IAC/InterActiveCorp family of online businesses.
"The growth of search engine advertising is attributed to its unique targeting abilities, high degree of relevance, mass reach for advertisers and strong return on investment, and we look forward to more efficiently providing these benefits to our advertisers through a new automated system," Paul Gardi, executive vice president and general manager of IAC Advertising Solutions, said.
Gardi said the new system would allow "a larger network of advertisers to optimize their advertising spend on Ask Jeeves and our syndication network."
Ask Jeeves already uses Google AdWords to populate its search results pages with advertising, putting its own ads on the page first and then pulling in AdWords to fill the advertising space above Web search results.
Tracking Campaigns
Search Engine Watch Editor Danny Sullivan noted that those who buy through the new system will likely be those willing to pay extra to be guaranteed top placement on the Ask Jeeves network. Otherwise, they could trust that their Google paid listings would appear on the pages.
Such automated systems are favored because they offer advertisers the ability to track and change campaigns quickly. However, since many already buy automatically from Google or Yahoo, the additional "hassle factor" of buying the ads might be a deterrent. "Creating and managing search ads is a complex task. Automation makes things easier, but it's still a case of diminishing returns when deciding how many programs advertisers will explore," Sullivan said.
Paid search listings are one of the fastest growing parts of the online advertising market, with forecasts saying it will be worth as much as US$8 billion this year.
Microsoft is also said to be working on an automated auction system to enable similar paid listing sales to complement its recently launched self-developed search engine.
Bright Future?
Search Engine Journal Editor Loren Baker said the arrival of the listings themselves is probably not enough to put Ask Jeeves on competitive level ground with its larger rivals. However, as it becomes integrated with the rest of the IAC network, that might change.
"When Ask Jeeves spins off its new search advertising offering, do not be surprised when after it begins to take off and produce some sound revenue, sponsored search results will be integrated into the IAC network on sites like Citysearch, Evite, Expedia, Gifts.com, Hotels.com, Match.com, ServiceMagic and Trip Advisor," Baker said. "Include Ask [Jeeves] properties iWon, Excite and MyWay into the mix and you'll have Ask Jeeves sponsored search links on a rather large percent of the Internet — possibly enough to compete with Google, Yahoo and MSN."
Stanford Group analyst Clay Moran told the E-Commerce Times that Ask Jeeves can be a significant force even if it remains a niche player, without adding to its current 5 or so percent of market share.
"The search industry is growing so fast that even a small player can have sustained revenue gains and profits," Moran said. Added into the IAC network under the strategic eye of CEO Barry Diller, the search property might be even more valuable, he added.
"There are synergies and they will be able to use them to drive and enhance traffic, to create a strong presence in local search," Moran added. "The resulting business is an attractive one and will probably be a good one long-term."