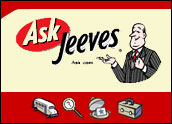 Striving to keep pace with its larger rivals in the search space even as it becomes part of the InterActive Corp. online empire, Ask Jeeves has debuted two features that it says will result in more accurate search results.
Ask Jeeves said its features called "Zoom" and "Web Answers" would result in more relevant results and faster searches for users.
"Today's launches significantly advance the cause of some of our most popular search features," Jim Lanzone, Ask Jeeves' senior vice president of search properties, said. "Zoom and Web Answers are not bells and whistles; they are important innovations on some of our core search technologies, which will help our users find what they need faster than with other search engines."
Back to Roots
In fact, the answers feature takes Ask Jeeves back to its roots as the search engine that could answer specific questions. That feature was popular with users early on in the evolution of the Web, but became unwieldy as the number of pages that any given keyword or set of keywords would return became larger, Search Engine Watch Associate Editor Chris Sherman said. "It didn't scale well," he said.
The new "Web Answers" tries to return to that simplicity by using newer technology to hone in on the specific information a user might be seeking.
Sherman noted that Google recently launched a similar question-and-answer feature. In both cases, the results page features the simple answer to the apparent question being asked. For instance, typing in "capital of france" will return a page of results with the word "Paris" at the top.
Ask Jeeves is billing the "Zoom" feature as a way to narrow or widen search results with a single click, much in the way map images can be manipulated on the Web. The feature is built on the technology Jeeves acquired when it bought startup search site Teoma in 2002.
Ask Jeeves cited as an example a search for the word "Beatles." Zooming in by clicking on "narrow your search" returns categories such as lyrics, band history, etc. While zooming out will return related topics, such as sites about the Rolling Stones or the 1960s. A "related names" link would lead to results on the four Beatles band members.
Ask Jeeves Vice President of Product Management Daniel Read said there is a need to provide users with tools to refine search results because most enter only bare-bones terms in the search box to start with.
Niche Search Space
"Searchers don't want to spend time to formulate and enter involved search terms," he said. "Queries are frequently short or ambiguous. Zoom guides users to exactly what they are looking for fast."
Analysts have long said that Ask Jeeves would likely continue to occupy a niche in the search space, providing users an alternative while also generating traffic through the Excite family of entertainment-focused Web sites that it purchased last March for US$340 million.
Stanford Group analyst Clay Moran told the E-Commerce Times that Ask Jeeves will see more of that type of traffic feeding as it becomes part of IAC. Speculation is that Ask Jeeves will become the in-house search engine that users of other IAC sites, such as TicketMaster and CitySearch, are directed to for Web queries. If that happens, that could boost the traffic going through Ask Jeeves' search site and enhance its profile among advertisers.
Moran also noted that through the merger, Ask Jeeves gets a deep-pocketed backer that could go toe-to-toe with Yahoo and Google in terms of investing in new technologies.
According to comScore Networks, Ask Jeeves captures about 5 percent of the total Web search traffic, about half of that coming from the Excite properties.
What's Next?
The timing of the rollout was not lost on analysts. It came just as Ask Jeeves officially changed hands, with Barry Diller's IAC/InterActive Corp. officially purchasing Ask Jeeves for $1.85 billion.
Many believe the search site will be quickly re-branded and re-positioned once it becomes part of IAC. Most are betting that at least the "Jeeves" portion of the name will be gone before long.
IAC CEO Barry Diller told a digital media conference this week that he believes his search site can compete effectively for both user eyeballs and advertising dollars and said he is willing to invest heavily in order to boost the awareness of the search engine among consumers.
"It probably won't be called Ask Jeeves," Diller said in response to a question at the conference. He added that the final name might include one of the current words in the name but not the other.