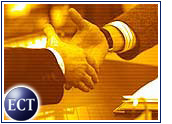 Ariba (Nasdaq: ARBA) rose 56 U.S. centsto $8.29 in morning trading Tuesday, after the business-to-business (B2B)e-commerce software maker announced an expanded alliance with IBM (NYSE:IBM).
Ariba also revealed a plan to collaborate with professional services companyPricewaterhouseCoopers (PwC) in the formation of online exchanges for common clients.
The IBM alliance, an expansion of an existing agreement with Ariba, incorporates Ariba products into IBM's WebSphere integrationsoftware. WebSphere Internet infrastructure software allows companies toput in place systems for processing transactions, Web publishing and othermeans of doing business over the Internet.
IBM and Ariba teamed up a year ago to collaborate on B2B e-commerce softwareand services, which they aim to sell to customers across a broad range ofindustries. The companies said Tuesday they have "made significant advancesin product integration" since the initial agreement.
Last month, IBM said it was ready to begin offering theAriba Buyer online purchasing system worldwide in the second quarter. The alliance aims to provide mid-sized companies with online procurementsystems at prices starting at less than $20,000 per month.
Also Tuesday, Ariba said it is partnering with PwC to provide B2B software to some of their jointcustomers.
PwC and Ariba said they will develop and market collaborative sourcingservices for companies that want to create private online marketplaces,exchanges and trading networks. In addition, PwC will useAriba software in its worldwide network of technology demonstration centers.
Ariba and PwC have been doing business together since1999. Financial terms of the agreements were not disclosed.