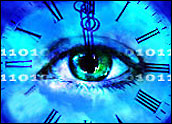 During the high-tech boom, vision was in. Corporate leaders like AOL's Steve Case, who made bold predictions and then acted with full confidence that those forecasts would come to pass, were the heroes of the New Economy.
Nowadays, on the other hand, CEOs seem to be cherished more for their ability to keep costs down and make the tough business decisions necessary to get a company through hard times.
Is the age of the tech visionary finished? Or are "idea people" still hard at work, imagining the future of technology while they wait for a new day in the sun?
A Vision Thing
The answer may lie somewhere in the middle of these two extremes. Certainly, tech visionaries have not been entirely discredited. For example, in many observers' eyes, Case's recent departure from AOL Time Warner did not indicate that his vision of a multichannel media empire was fundamentally flawed; rather, it showed that this idea was either ahead of its time or simply too ambitious in today's harsh economic climate.
"I think if there's a lesson in AOL, it might be that it's okay to dream big, but be prepared to move there in smaller steps," Morningstar.com analyst David Kathman told the E-Commerce Times. In other words, do not bet the farm on things working out exactly as you imagine they will.
Of course, to a certain extent, the nature of leadership is to move singlemindedly toward a goal. Leaders who can muster sufficient corporate and economic muscle to take steps as bold as Case's can be quite effective. However, Kathman added, they can be so focused on making their visions real that they may not realize when change is advisable — until it is too late.
Taking both the good and bad traits of such leaders into account, the question remains: Are they in demand right now?
Alive and Kicking
According to Kathman, plenty of visionary leaders are still thriving in the high-tech arena, thanks in large part to their flexibility.
One such leader, Amazon CEO Jeff Bezos, has methodically positioned his company to set the e-tail standard. For example, although Amazon was first built on a pure-play model, it has adapted to the emergence of multichannel selling and actually has become a standard-bearer in that field as well. EBay's Meg Whitman has taken a similar approach, never giving up on strong growth and constantly trying new approaches to achieve that goal.
And even though he has his share of detractors, Microsoft's Bill Gates is also a visionary who brings an important strategy to the table: a slow and steady march forward, no matter what, according to Giga Information Group analyst Rob Enderle.
"Microsoft never stops innovating, regardless of the economy or what else is going on," Enderle told the E-Commerce Times.
To wit, even amid the tech spending drought, Microsoft has rolled out the Tablet PC and pushed ahead with its .NET initiative. Moreover, the company's developers continue to work on a next-generation operating platform that Microsoft believes will be as revolutionary for the PC industry as Windows was more than a decade ago. "Microsoft feeds off [all of] its various leaders, but Gates is the man who expects the technology to be pushed ahead all the time," Enderle noted.
Yin and Yang
Management experts say the best corporations find a way to accommodate both visionary and practical attributes in their top executives. Sometimes, these two qualities coexist in one person, but often a CEO or chairman focuses on plotting an enterprise's long-range course — the visionary piece of the puzzle — while a COO or other counterpart performs the daily tasks needed to keep the corporate ship afloat.
Indeed, it is important for a company not to lose its big-picture vision, even while pursuing cost controls and business process improvements.
"Vision … gives a company a reason to move forward; it keeps workers motivated and focused when they could be distracted for obvious reasons," John A. Challenger, CEO of outplacement firm Challenger, Gray & Christmas, told the E-Commerce Times.
A corporate vision need not involve a grand image of a futuristic society, according to Challenger; rather, belief that the business can thrive and make a difference may be all that is necessary. Also, a corporate vision should be concrete and understandable so that employees can identify with it and strive to make it a reality.
"If a company is going through layoffs or pay cuts, that vision might be the only thing that's pulling those workers through," Challenger noted.
Shining Stars
In fact, visionaries may shine brightest during a downturn, according to Steve Bengston, a managing director at PricewaterhouseCoopers.
"It was easy to put your neck out there four years ago. It's a lot harder to take that bold approach now," Bengston told the E-Commerce Times. "Some of the best companies in history have been founded during the worst economic times. The type of leadership that can make that happen is always in demand."