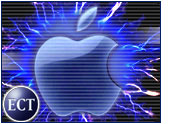 Apple Computer (Nasdaq: AAPL) rose US$1.40 to $24.19 in morning trading Thursday after beating analyst estimates for the second quarter ended March 31st, returning toprofitability after a first-quarter loss.
Lehman Brothers reportedly upgraded Apple shares to buy from marketoutperform following the report, while SG Cowen was said to have lowered itsrating to neutral from buy.
The Cupertino, California-based computer maker said that net income for thequarter totaled $43 million, or 12 cents per share, down from $233 million,or 64 cents, a year earlier but better than the 1 cent predicted byanalysts.
Revenue for the quarter fell 26 percent from a year earlier, to$1.43 billion.
Latest-quarter results included extraordinary items that resulted in a netgain of $3 million. Without those one-time items, the company would haveearned $40 million, or 11 cents per share.
"Apple returned to profitability in this tough economic climate by launchingseveral innovative new products," said chief executive officer Steve Jobs.
In the first quarter, Apple posted its first loss in threeyears as consumer PC sales plunged.
The second quarter saw some improvement. In addition to shipping 751,000Macintosh computers, the company sold the new Titanium PowerBook G4notebook, the Mac OS X operating system, the iTunes custom CD maker, and DVDmaker SuperDrive.
"It was a great new-product quarter, and there's stillmore to come," said Jobs.
Chief financial officer Fred Anderson said that Apple expects revenue of $3.2billion to $3.4 billion in the second half of the fiscal year, with"sequential improvements in both revenues and profits in the June andSeptember quarters."