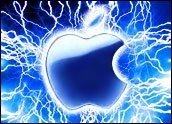 Apple Computer outpaced expectations with its latest earnings, posting a profit as strong sales of non-desktop machines led the company to its best revenue-generating quarter in more than two years.
Apple posted a profit of US$19 million for the quarter ended June 30th on revenue of $1.54 billion, an 8 percent increase over year-ago figures. Both profit and revenue figures well outpaced the expectations of analysts, who predicted Apple would book sales of about $1.49 billion.
CEO Steve Jobs said the quarter was all about new products: Apple launched its iTunes Music Store, a new generation of its iPod music player and the Power Mac G5, which Apple is touting as the world's most powerful desktop computer.
"Customer response to our new products has been very strong," Jobs said. G5s are due for delivery starting in August.
Withering on the Desktop
Apple said it shipped 771,000 Macintosh units during the quarter. Gartner analyst Charles Smulders said the company's strong results are not that surprising since overall personal computer sales saw strong gains in the quarter.
"Market conditions appear to be improving, and that should help all the PC makers to varying degrees, though it's not clear how long it will last," Smulders told the E-Commerce Times. "As far as market share goes, things are staying true to form in terms of who's gaining ground."
Gartner's latest figures show Dell making strong gains in market share in the United States, with Apple hanging on to 3.8 percent market share, down slightly from a year ago.
Apple acknowledged that consumers seem to be strongly embracing portable computers at the expense of desktops. iMac sales dropped slightly in the quarter, while Power Mac sales remained at the same level compared with last year. But Jobs noted that the first batch of G5s will ship in a matter of weeks and hinted that pre-orders for the machine are strong.
By contrast, iPod sales hit record levels, with 304,000 units sold, nearly four times as many as in the previous quarter. iPod sales likely were driven by the popularity of Apple's iTunes music download store, which the company said is already edging close to the break-even point.
Doing Its Part
Apple contributed to a strong batch of earnings reports from tech bellwethers ranging from Intel to IBM.
Chipmaker Intel managed to slip past analysts' expectations with a profit of $896 million on $6.8 billion in revenue. Meanwhile, AMD posted a smaller-than-expected loss of $140 million, down from $185 million a year ago, as flash memory sales drove revenues to $645 million, ahead of the company's own recent forecast.
IBM posted gains in both revenue and profits, while EMC saw profits jump from just $1 million last year to $81.7 million in the most recent quarter as sales climbed to $1.48 billion.
Curb Your Enthusiasm
However, in almost every case, companies tempered enthusiasm for their results by downplaying the likelihood of a powerful short-term rebound in tech spending. EMC, in fact, said its third-quarter results probably will not grow at all.
Also, analysts were quick to note that at least part of IBM's gains stemmed from asset sales and currency exchanges, prompting several brokerage houses to lower their outlook for Big Blue going forward.
In fact, Apple was one of the few companies to wax optimistic about the quarter ahead, with CFO Fred Anderson predicting "an increase in revenues and a slight increase in earnings."