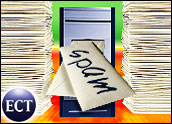 A federal judge has dismissed a lawsuit brought by America Online against a group of Florida computer technicians, whom AOL had accused of maintaining computer networks that were used to batter its e-mail servers with spam targeting its millions of users.
The suit, one of many legal and other approaches AOL and others have tried to use to gain an advantage against the flood of spam, was dismissed by U.S. District Court Judge Claude Hilton on grounds that AOL failed to prove it has jurisdiction over the Florida residents.
AOL had claimed the defendants violated Virginia's consumer protection laws by enabling delivery of bulk e-mail to AOL's server farm. However, the judge found AOL had failed to prove that Virginia's laws applied in this case.
Chilling Effect
Attorneys for the defendants said the case could impact all state-to-state anti-spam lawsuits. Virginia, where AOL has long had its online service headquarters, is widely seen as having the United States' toughest anti-spam laws on its books.
"Such a ruling, coming on the heels of the many, much publicized lawsuits in Virginia against alleged spammers, demonstrates the court's concern that due process rights may be violated by permitting Internet service providers to sue out-of-state technicians or computer networking consultants," said attorney Seth Berenzweig of law firm Albo & Oblon.
One of Many
AOL could not be reached immediately for comment. However, company representatives were quoted in published reports as saying the ruling simply establishes ground rules that other plaintiffs must follow to overcome the jurisdiction issue.
For his part, Forrester Research analyst Jim Nail said the difficulties of using legal weapons — even the new national CAN-SPAM legislation signed into law by President Bush earlier this month — underscore that a new approach is needed.
Nail added that until ISPs and online providers like AOL begin to charge bulk e-mailers, lawsuits and criminal actions will only chase spammers further underground, making them more difficult to pursue.
"The spammers will stay one step ahead of the law, and companies will have to spend a lot of money if they want to continue to go after them," Nail told the E-Commerce Times. "There needs to be a more fundamental shift in the approach, or else spam is going to continue to flow and possibly even increase."
We're on the Job
Still, AOL and other companies may believe there is some public relations benefit to pursuing spammers with armies of lawyers.
Just two weeks ago, for example, Microsoft announced it would work closely with New York state Attorney General Eliot Spitzer to pursue civil and criminal actions against spammers accused of sending millions of unwanted e-mail messages.
Whatever the eventual solution to the spam scourge, the urgency of fixing the problem was underscored recently by a report from New York consultancy Basex, which said the average enterprise loses between US$600 and $1,000 per user per year in terms of productivity and resources. All told, Basex said, U.S. companies lose some $20 billion each year because of spam.