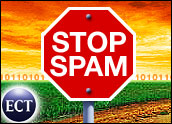 Just two days after President Bush signed national antispam legislation, Microsoft has announced that a six-month investigation it conducted with New York Attorney General Eliot Spitzer led to a slew of lawsuits against an e-mail marketing ring believed to be responsible for sending billions of spam messages.
Microsoft and Spitzer said their legal actions allege that Synergy6 and high-profile online marketer Scott Richter, along with accomplices in Washington, Texas and New York, are behind seven spam campaigns that violated existing consumer protection statutes.
The suits charge that the spammers used forged sender names, false subject lines, fake server names and obscured transmission paths, among other techniques, to attempt to avoid detection. The spam ring allegedly used some 514 IP addresses in 35 countries to flood users' inboxes with unwanted commercial messages. Five other alleged spammers are also named in civil suits filed by Microsoft.
Chasing the Kings
Microsoft general counsel Brad Smith called spam "arguably the biggest technology menace consumers are facing." The software giant is suing on behalf of users of its popular Hotmail Web-based e-mail service.
Defendant Richter is also president of another online marketing firm, OptInRealBig, which advertises "the freshest" lists of e-mail addresses for marketing on its Web site.
In a note on its Web site, OptInRealBig said it has not been contacted by Spitzer's offices but has been "made aware through other sources" of pending legal action. The company professed its innocence.
"Optin and [president] Scott Richter vigorously deny any violations of New York law and ask that their clients and friends make no decision regarding any liability on their part until they have the opportunity to respond to any allegations made against them," the statement said.
Optin referred questions to its legal counsel, but also said the lawyer will be unavailable for comment until the end of the week.
Creative Approaches
Spitzer and Microsoft's push comes as national attention is focused as sharply as ever on the problem of spam and what to do about it. Opinions are mixed over whether the antispam law President Bush signed Tuesday will help minimize the flood of unwanted e-mail clogging users' inboxes and bogging down corporate servers.
For his part, Forrester Research analyst Jim Nail said the CAN-SPAM Act is unlikely to put a dent in the amount of unwanted e-mail being sent, though it may force some unscrupulous spammers to find safe havens in other countries.
"The only real way to stop it is to charge for the right to send e-mail," Nail told the E-Commerce Times. Adding even a minuscule charge for each e-mail introduced into an ISP's network would make the medium uneconomical for true spammers, he said, clearing the way for more legitimate users to provide consumers with messages they actually want to receive.
Nail acknowledged that such a scheme likely would face opposition from direct marketers. In the meantime, aggressively attacking spammers with lawsuits and criminal charges will help create a hostile environment and will deter some less-dedicated spammers from stepping up their campaigns.
Forrester estimates that three-quarters of e-mail in circulation is already spam. E-mail filter vendor CipherTrust said some 6.1 trillion spam messages will be sent this year alone, costing businesses in the United States some US$10 billion in lost time and resources.
Bad Boys
Spitzer is hardly a newcomer to the antispam crusade. In May 2002, he filed suit against online firm MonsterHut for allegedly sending fraudulent e-mail messages.
However, this latest alliance breaks new ground, as Microsoft and Spitzer have found themselves on opposite sites of the table in the past. In that case, Spitzer criticized Microsoft for allegedly violating its own online privacy policies by collecting data about Web users without their knowledge.
IDC analyst Jonathan Gaw told the E-Commerce Times that Microsoft and other companies, including AOL and Yahoo, that have promised tough-on-spam campaigns recognize the benefit of doing so.
"It's one thing to offer filters and say you're doing your best to stop the spam, but for any company to be out front and actually investing their own money in pursuing these legal actions says they really are interested in stopping this," Gaw said. "The average Web user is so frustrated by spam that they really want to hear that everything possible is being done to stop it."
Indeed, the war on spam continues to broaden. The state of Virginia, which has long had one of the toughest antispam laws on the books, is moving forward with a high-profile criminal prosecution of a man whom officials describe as a "spam king." Jeremy Jaynes, 29, could face up to 20 years in prison if convicted on all charges.