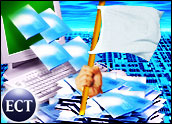 The U.S. Congress has passed the most sweeping anti-spam legislation to date, authorizing creation of a do-not-e-mail list that allows consumers to opt out of all unwanted messages.
President Bush has indicated he would sign the so-called CAN SPAM legislation, which could become law as soon as next week. The bill authorizes the Federal Trade Commission to establish a list of consumer e-mail addresses that are off-limits to spammers. It sets penalties, including fines and prison sentences of up to five years, for violations.
The legislation contains a key concession to direct marketers in the form of a provision that calls for the federal law to preempt all existing state laws. Marketers lobbied for the preemption, arguing that complying with various state jurisdictions was too cumbersome.
The bill comes at a critical time. In a report released Tuesday, network security firm MessageLabs reported that spam traffic reached an all-time high in 2003. During the month of May, for example, 50 percent of all business e-mail traffic consisted of spam. MessageLabs also warned that more viruses and worms are being spread through use of spam.
Split Decision
While some industry players hailed the move as a victory for spam fighters, others said the legislation is certain to fall short of its goal of stemming the tide of unwanted commercial e-mail pitches for offshore pharmacies, pornographic Web sites and moneymaking scams. Experts say the flood of spam ultimately could threaten the viability of e-mail as a business and communications tool.
In a middle-ground response, leading Internet provider America Online issued a statement praising the decision as a "major victory towards protecting consumers" but said it will continue developing new tools to help users filter spam out of their own inboxes.
On the other hand, the Coalition Against Unsolicited Commercial E-Mail (CAUCE) called the legislation "weak."
"This bill does not stop a single spam from being sent," said the consumer group's chairman, Scott Mueller. "It also gives a federal stamp of approval for every legitimate marketer in the U.S. to start using unsolicited e-mail as a marketing tool. Congress has listened to the marketers and not to consumers, and we have no faith that this law will significantly reduce the amount of spam that American Internet users receive."
No Letup
Amid the debate, one thing that seems certain: Spam filtering software and services will not be rendered obsolete by the law. In fact, some analysts have predicted that loopholes in the new law could create more of certain types of commercial e-mail messages.
IDC analyst Jonathan Gaw told the E-Commerce Times that the need to protect networks against bandwidth-eating spam is as pressing as ever.
"Even if legislation did help curb the amount of spam, the need to protect networks wouldn't diminish," he said. "The types of spam you'd need to filter might change over time, but not the need to keep unwanted stuff off the network."