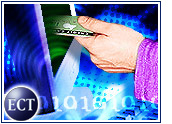 AOL has begun selling prepaid Internet access cards and offering more online content, providing a glimpse into parent company AOL Time Warner's strategic plans for jump-starting growth at its online unit.
The prepaid cards, similar to those sold for long-distance telephone service, are already for sale at Western Union and Target stores and will be available in Office Depot stores before Christmas, AOL spokesperson Jim Whitney told the E-Commerce Times.
The cards cost US$14.99 and feature 500 minutes, or more than eight hours, of dial-up Internet access. The cards themselves are good for 18 months after purchase, though minutes must be used within 90 days of the card's activation. As with telephone cards, additional minutes can be added before the card expires.
Untapped Audience
Analysts say AOL's goal is to convince still-reluctant households to get online by offering bargain-rate access. Its target audience is people who may use the Internet only sporadically and are unwilling to pay AOL's basic monthly fee, which is now more than $20.
That group may be one of the few segments left untapped in the United States. "So many of the U.S. households are already online that there isn't much growth left in terms of people getting online," Nielsen//NetRatings senior analyst Lisa Strand told the E-Commerce Times.
AOL's prepaid plan likely will net it some new customers, and some of those customers eventually may upgrade to full monthly or annual plans.
Off the Top
AOL also feels it can grow its revenue by offering better content and convincing users who already have Internet access — particularly broadband — to buy premium services, such as access to previews of TV shows and movies and other services like interactive online gaming.
The online network produced something that may be typical of its future menu this week: a half-hour celebrity gossip show that will run every Wednesday.
AOL also is said to be at work on a plan to claim a bigger chunk of the billions of dollars its members spend on e-commerce each year, since most of that spending currently brings little or no income to the service.
All of these initiatives come as AOL CEO Jonathan Miller prepares to unveil his strategy for returning AOL to its former glory as the growth arm of the AOL Time Warner company. Miller met with the board of directors yesterday and will make a presentation to analysts December 3rd.
Not-So-Merry
With the moves, AOL is seeking to replace rapidly dropping ad revenue, which fell nearly 50 percent in the third quarter compared with a year ago. That drop was precipitated in part by the demise of many dot-coms with which AOL had done business. Those deals also have been the focus of probes that prompted AOL to restate some earnings.
Two recent events have underscored how challenging times are at AOL. Earlier this month, 90 people reportedly were cut from the online unit's interactive marketing division.
And in a memo widely circulated both inside and outside AOL, Miller announced that the typically lavish holiday parties, which were already being planned for this year, would be shelved in favor of low-key "socials."