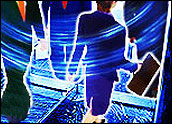 Just seven months after being hired to revive the America Online Internet brand, James de Castro has announced he is leaving AOL Time Warner.
AOL said de Castro is leaving to "seek new opportunities" and indicated he wants to hold a CEO position. De Castro reportedly was disappointed he was not chosen for AOL's CEO spot, which went to USA Interactive veteran Jon Miller over the summer.
Launch Done
De Castro's departure comes hard on the heels of the launch of AOL 8.0, a much-hyped revamp of the world's most popular online service. Perhaps more importantly, the exit comes just weeks before AOL will present strategic plans for solidifying its hold on the Internet service market.
Miller said that despite his short time at the helm of the interactive services unit, de Castro helped guide the service through "a critical juncture" leading up to the AOL 8.0 launch. "He deserves a huge amount of credit for the AOL 8.0 product," Miller added.
Comings and Goings
The resignation is the latest executive movement at AOL, which analysts say has struggled to determine exactly how the pieces of the huge empire created by the merger should work together.
A former radio executive, De Castro came aboard amid a larger executive shuffle at AOL as concerns grew that the online unit, which had been growing rapidly, was losing steam — and losing customers — to competitors, such as MSN.
Since then, the frenzy has picked up steam, with longtime chief operating officer Bob Pittman resigning and remaining executives ducking for cover amid investigations into AOL's accounting practices during the dot-com boom.
Eyes on Future
While de Castro's background led many to believe AOL would push to revive its slumping ad income, version 8.0 of AOL's software actually blocked some pop-up ads in an effort to improve customer satisfaction, Gartner analyst Charles Abrams told the E-Commerce Times.
"The decision to stop pop-up ads showed AOL was ready to focus on its core consumer business again," said Abrams. "That's where AOL's strength lies."
AOL has said it will unveil a revamped strategy at an analyst meeting December 3rd. Most observers expect the plan will steer the service away from luring new dial-up customers and toward nurturing more broadband growth.
That, in turn, could help AOL realize the original promise behind its merger with Time Warner, Abrams noted, by creating a pipeline through which original video content and programming could be delivered to consumers.