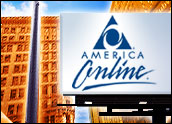 America Online announced plans yesterday to offer Voice over Internet Protocol (VoIP) service to its customers within a month.
AOL Chief Executive Jon Miller said "it's really time" for VoIP services during his keynote address at the VON Spring 2005 conference in San Jose, Calif. Even though Miller admitted that "there's a lot we don't know, a lot of hurdles and questions," he said he is confident in the Internet pioneer's ability to bring this communications technology to the masses.
Miller said AOL will build on its e-mail and instant messaging expertise to bring more functionality to voice communications. "We think [VoIP] can be much broader," Miller said. "There's a totally different opportunity by integrating presence. You can screen the call, take the call, or send an instant message — your buddy list becomes a dashboard."
The Opportunity
Analysts said AOL has a clear opportunity in the VoIP market, which will penetrate 12.1 million households by the end of the decade, according to Jupiter Research. That represents about 10 percent of total U.S. households.
Gerald Murphy, vice president in the Global Network Strategies Group at META Group Inc., told the E-Commerce Times that AOL has access to a broad customer base, which would give them a market advantage if those customers adopted its new AOL service instead of a competitor's.
"AOL's general reputation and capabilities are around ease of use," Murphy said. "So they'll set up a front-end system to make it relatively easy for an end user to use a voice over IP phone service."
The Challenge
But analysts said AOL also has plenty of challenges in the VoIP marketplace. AOL doesn't own its own infrastructure, for starters. AOL's service will use VoIP technology from Level 3 Communications Inc. and Sonus Networks.
"AOL is still going to have the same difficulties anybody else would have in terms of guaranteeing the quality of service," Murphy said. "The vast majority of their customers are going to have a connection via public Internet access. So in my mind remains to be seen how good the quality of the service could be."
Murphy said the VoIP service makes more sense for AOL's broadband customers. AOL said it will eventually offer VoIP to anyone with a high-speed Internet connection, but that time frame has not been specified.
AOL has not released pricing details for the new service.