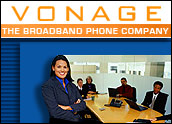 Moving quickly to protect the rights of emerging voice over Internet protocol (VoIP) providers, the Federal Communications Commission (FCC) has fined a North Carolina-based telecommunications carrier for refusing to accept traffic from Vonage.
The action from the FCC came less than a month after Vonage first filed a complaint with the agency. At the time, Vonage said an unnamed local carrier had configured its servers to deny access to block ports that are used to carry VoIP traffic.
VoIP converts voice to data traffic that is sent through broadband networks at a sharp discount to traditional local and long-distance providers.
Settlement Reached
Yesterday, the FCC said it had negotiated a settlement with Madison River Communication, under which the firm will pay a US$15,000 fine and agree to avoid any actions that could hamper customers' ability to use VoIP services.
Analysts said the action sends a strong message that the FCC will act to enforce and uphold its light-regulatory-touch approach to VoIP, which at least a majority of the agency feels is essential to enable the emerging technology to flourish.
"We saw a problem, and we acted swiftly to ensure that Internet voice service remains a viable option for consumers," FCC Chairman Michael K. Powell said in a statement. "The industry must adhere to certain consumer protection norms if the Internet is to remain an open platform for innovation," Powell said.
Powell said VoIP is just one part of what he called "Internet Freedom," in which the Internet's openness is carefully guarded. "In my view, the surest way to preserve 'Net Freedom' is to handle these issues in an enforcement context where hypothetical worriers give way to concrete facts and — as we have shown today — real solutions," Powell said.
While the enforcement action is a relatively minor one in monetary terms, VoIP expert Jeff Pulver said it could act as a swan song of sorts for outgoing FCC head Powell and help set the tone for the regulatory environment going forward.
Other ISPs
"It was essential for him to solidify his vision and the path before he stepped down," Pulver said. "He has tried to create a regulatory environment that will simultaneously promote innovations and competition for new communications applications and services and allow for broadband deployment and network upgrades to support new technology and services."
Vonage has indicated that other, smaller ISPs, might have blocked its traffic as well, and might be hoping that the FCC action will prompt them to change their tactics. Madison River has about 240,000 local phone customers in four southern states. Vonage has said about 200 of its customers were affected by the block, which made it impossible for them to place or accept VoIP calls.
Analysts are split on how much regulatory intervention will be necessary in the VoIP arena.
"Some intervention or guidance will likely be necessary," Meta group senior analyst David Willis told the E-Commerce Times. "I don't think VoIP is going to remain entirely unregulated for the next several years."
Willis thinks the Baby Bells and other incumbent carriers who are in a position to provide network access to the very traffic that is cutting into their revenue bases might seek some protection if adoption of the technology accelerates rapidly.
Gradual Uptake
However, some analysts see a slow process ahead, one that should give the industry — and regulators — ample time to adjust.
"VoIP will take a while for mainstream adoption," independent telecom analyst Jeff Kagan told the E-Commerce Times. "First, people will use it as backup and then they'll start to drop their traditional service. It won't be an overnight change."