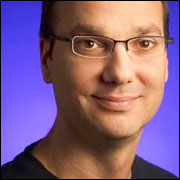 Andy Rubin, the creator of Google's ubiquitous Android mobile platform, has left Google, the company confirmed on Friday.
"I want to wish Andy all the best with what's next," said Google CEO Larry Page. "With Android he created something truly remarkable — with a billion plus happy users. Thank you."
Rubin reportedly is departing to start a tech incubator for hardware-focused startups.
He stepped down as head of Android in March — turning over the reins to SVP of Chrome and Apps Sundar Pichai — and turned his attention to robots instead.
James Kuffner, a professor at Carnegie Mellon University and research scientist at Google who has worked on self-driving cars, reportedly will replace Rubin as head of the company's robotics programs.
A Billion Active Users
Rubin joined Google in 2005 when it acquired Android.
The Linux-based mobile operating system made its debut in 2007; today, it claims more than 1 billion active users.
Page last week gave Pichai authority over almost all products at Google as part of a corporate reorganization.
An Empty Nest
Rubin's departure was foreshadowed by his move away from Android last year, suggested Ryan Reith, program director for IDC's Mobile Device Tracker suite.
"When he moved out from under Android and started doing special projects, I looked at it like he'd either find the next gem or move on to something bigger and better," Reith told the E-Commerce Times.
"His baby is Android, and he was watching it grow up, but not actually parenting it anymore," he observed.
A Deliberate Union
Android is in "good hands with Pichai," Reith said.
"What I think will happen over the next year or so for Google is that we'll start to hear a lot more about Android and Chrome coming together," he predicted.
"When the two were brought under the same leadership — which was when Rubin was moved to special projects — that essentially paved the way for eventually these two things to become one," noted Reith.
That makes sense, given that Google is "looking not just at the phone world but also the computing world — computers, tablets, home and TV," he explained. "They're trying to get Google involved in all these devices."
Grown-Up Google
Google has changed considerably since Rubin started there, independent mobility analyst Michael Morgan told the E-Commerce Times.
"Google is not the same company as it was back then," he noted. "There's a new CEO, a new head of Android, and it's now a mature, structured business that needs to be managed differently."
That new management structure, in fact, may not be well-suited to "the kind of person Andy Rubin is," he added. "He probably didn't have the same passion in Google's new environment."
'Mission Accomplished'
Before the rise of Android, "Andy Rubin said he was essentially trying to bring the Internet to the world," Morgan recalled. "I'd say, 'Congratulations — mission accomplished.'"
Of course, things didn't always go exactly as Rubin had planned along the way, he pointed out. "When Android first came out, initially it was not true to his vision — the first devices were premium devices."
At the same time, "I'd say that if that hadn't happened, Android probably wouldn't be as popular as it is today," he suggested. "Today, the answer for low-cost computing devices is Android."
In short, with Rubin's departure, "Google will lose a great mind," Morgan said, "but it may not be structured to take full advantage of it anymore." Rubin, meanwhile, is "rich enough now that he can do whatever he wants."