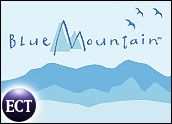 American Greetings bought BlueMountain.com more than five years ago, scooping up one of the pioneers in the online greeting cards field to build out its own e-cards business.
At the time, BlueMountain had built a strong following on the Web, using an artsy approach to cards designs and messages that resonated with its target audience.
Back to Basics
With online greetings marking their 10th anniversary this year, American Greetings chose to revisit its design and approach for BlueMountain. The result is a redesign meant to bring back the original BlueMountain feel.
The redesign formally goes live this week, with Hyundai Motors offering a three-day "free-view" during which visitors can sign up to send unlimited free cards, bypassing the usual subscription fee.
The new site is the result of a year's worth of research, design work, testing and tweaking, said Sally Babcock, senior vice president of American Greetings Interactive (AGI).
"What we feel we're re-launching is what Blue Mountain Arts was way back at the beginning, only with a modern update," she added. The company has high hopes the redesign will pay off — internal targets are for a 10 percent jump in visits to the site and subscriptions ordered. Babcock is hopeful those targets can be surpassed.
Starting From the Beginning
Major redesigns are fairly rare among major e-commerce companies. Consumers are creatures of habit, after all, and the familiar look and feel of an eBay or Amazon home page is a welcome site to returning customers. While small adjustments are often made, more wholesale changes come with risks. An e-commerce customer who tries a familiar navigation route and ends up somewhere new may be frustrated enough to leave the site entirely, for instance.
Still, overhauls do happen. Yahoo recently redesigned its Finance section, for instance, largely to roll out new and enhanced features in response to a challenge from Google.
AGI was careful not to completely abandon its existing Web design, Babcock said. For instance, navigation changed only slightly, with visitors taking the same pathways to sign up for an account or send a card.
Still, research showed some room for improvement in the way categories were presented. "People were having trouble finding anniversary cards, that sort of thing, so we revamped how we presented the categories," Babcock said.
The main idea was to get BlueMountain back to its roots. Over time, she said, the site had taken on a less serious collection of greetings and images. "Consumers told us they were looking for more of a grown-up line — that's what had brought them to BlueMountain to begin with," Babcock stated. "There's still some silly cards, but there's also more images and messages that have a more serious feel to them."
The feel of the site also changed, with careful consideration given to the color palette to portray a softer, calmer feel.
The redesign happened without major changes to the back-end infrastructure of the site. The entire AGI server environment is updated on a yearly basis to keep it current and stay abreast of current trends in e-commerce, according to Babcock.
One notable technological change came in the form of a move to MP3 files and away from MIDI files for sound. "People said it sounded too much like organ music before and now we think it has a more modern feel," Babcock noted.
High Hopes
AGI handled most of the changes in-house, but it did call on some outside assistance, including calling in the Web designer who helped create the original BlueMountain interface back in the mid-1990s.
For AGI, BlueMountain is a key part of a larger card franchise. The company bought BlueMountain at the fire-sale price of $35 million in the fall of 2001 from [email protected], which had paid more than 10 times that amount for it during the dot-com boom, when BlueMountain was one of the most heavily visited sites on the Web.
Having BlueMountain as a distinct brand allows AGI to use it in other ways as well, Babcock said. For instance, it will carry a strong message of social responsibility, focusing on various causes and issues.
The soft launch of the redesign already has Babcock optimistic it will pay long-term dividends. The first week of the new page saw double-digit increases in visits, cards sent and new subscriptions.
Another consideration was timing. AGI wanted customers — the typical subscriber is a woman who sends many cards to her friends and family over the course of a year — to have a chance to get used to the new BlueMountain.com before the key holiday seasons.
"Halloween starts our big season and it goes all the way into Valentine's Day," Babcock said. "We think we have a great alignment of cards people want and the setting they want it in — now the proof will be in the pudding."