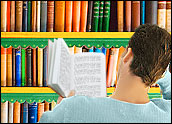 In a move that could free up backpack space on college campuses nationwide, Amazon is reportedly looking to enter the school textbook market with the release of a new, student-friendly version of its Kindle electronic book reader.
The Seattle Post-Intelligencer quotes a McAdams Wright Ragen analyst as saying that the company is already at work on new Kindles and sees an opportunity in the US$5.5 billion textbook market. Amazon has previously confirmed that there will be Kindle updates but isn't commenting on targeting specific markets.
That isn't stopping analysts and the technology press from offering up educated guesses about an affordable Kindle with a bigger screen that would allow students to download college and university textbooks from all the major publishers. Improved functionality would let the students click on hyperlinks, highlight text and search the Internet while accessing the same graphically rich, color pages now available in the books that will soon be weighing down those backpacks as the fall semester nears.
Surprisingly Supportive
"A lot of people think the major textbook publishers are against e-books," Mary Skafidas, spokesperson for McGraw-Hill Education told the E-Commerce Times. "The opposite is in fact true."
About 95 percent of her company's textbooks are available in digital form, Skafidas said. E-books are a small part of McGraw's overall revenue stream, but it is a growing source that has seen a dramatic increase in demand during the last two years.
"In our mind, this is great because the functionality offered in digital devices is probably more useful in the long run to students than printed books," Skafidas said. "We have a strong relationship with Amazon. We're aggregators. We offer our materials in any way that our customers would prefer to use them."
To highlight her point, Skafidas mentioned CourseSmart, a Web site representing a coalition of major textbook publishers including McGraw, Pearson, Wiley, Cengage Learning and Jones and Bartlett. The site is a one-stop-shop for legal digital education materials for students and faculty.
Low-Tech Dealmaking
The near-future of education will center on Kindle-like devices that compliment laptop computers, Frank Lyman, CourseSmart's executive vice president of marketing, told the E-Commerce Times. The hurdles, however, involve both technological developments and old-fashioned dealmaking.
"The consumer book market is very different from the textbook market," Lyman said. "With textbooks, students only buy what they are assigned. It's a narrow set of titles, and you have to have exactly what they're looking for. The bar is higher for any entry in textbook market. You need a lot of content." Amazon or any other device maker will need to make the right deals with publishers that address concerns like piracy and the ability to update texts.
The need to reproduce textbook pages exactly as they appear in print form is also a factor. "It's very hard to do color the way it's used in 90 percent of the textbooks. In a biology textbook, the minute you lose color, you lose real education value. I've seen some color prototypes. They're not that bad but the cost hurdles, from what I understand, are dramatic."
Learning to be Loyal Customers
James McQuivey, a Forrester Research analyst who was once a college professor, used to watch his students wrestle with expensive, phone book-sized texts that were destined to be sold back to bookstores at the end of each semester. A Kindle wouldn't add that much to a college student's budget, he said, and Amazon builds on its own future.
"Once they get these 20, 21-year-old kids reading on a Kindle, I assume they'll have them for life, " McQuivey told the E-Commerce Times. "They'll pay for the device out of their college funds and then they'll keep it for pleasure reading for years and years after."
There's a reason that Amazon is moving fast in terms of technological updates to the Kindle that can handle graphics and color, McQuivey said: "Textbooks are basically USA Today with hardback binding" — and in terms of making deals with textbook publishers. Besides Amazon and Sony, McQuivey said, two other companies have their eyes on this market, with one of the unnamed companies soon to offer a larger device for the academic and business publishing segment. "By next summer there should be four solid readers in the market," McQuivey said. "Suddenly everyone's smelling blood."
And publishers should enjoy being courted, having learned from the music industry's experience that saw Apple's iTunes become the top music retailer. "Everybody looks at that and says, if we empower Kindle to be the dominant platform, with proprietary digital rights management, we're going to be doing whatever Amazon tells us to do over the next 20 years," McQuivey said. "It's easy to portray publishers as Luddites, but they want that competition in the market."