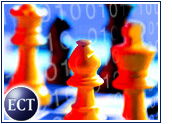 We all have years in which we pick our heads up in our travails and say, "This will be a make-or-break year for me." That has been said ofIntel competitorAMD year-in and year-out, but the company entered 2003 with more to lose than ever before. It commands a healthy share of thedesktop and notebookchip market, with just under20 percent — the best figure AMD has enjoyed in the last few years.
Now, AMD plans a slew of new product releases that could sway its fortunes for good or ill. On tap: a suite of mobile chips; a 64-bit desktopprocessor that some think could push Intel to imitate AMD for the first time ever; and a 64-bitserver chip that has practical benefits for a growth market. Will AMD rise above the challenges that face it to emerge stronger than ever, or will it stumble and fall behind?
Of all AMD's potential product offerings in 2003, it seems the Opteron chip, due out next month, and mobile chips represent the company's best chances to get back on the road to financial health, and maybe even rack up sizeable market share in the process. All it has to do is execute.
Go West, Young Man
Most of the hand-wringing around AMD focuses on the company's race for the desktop market. On the positive side, AMD has securedIBM's support for its 64-bit vision with the demonstration of IBM's DB2 database using native 64-bit features in an AMD chip. Microdesign Resources named the chip best PC processor of 2002, as it will be the first desktop processor with the ability to access 64-bit memory addresses and at the same time run older 32-bit programs.
However, AMD still lags behind Intel when it comes to clock speed. Its Athlon XP runs at just 2.25 GHz, far less than Intel's 3 GHzPentium 4, which will get a further speed boost when Intel moves to 90-nanometertechnology later this year. AMD might be able to speed up the rate at which Athlon XP draws from main memory — the so-called front-side bus — but that will be slim comfort until Athlon 64 ships.
Still, this head-to-head conflict might not be the main attraction. Although Intel's hold on the desktop has been AMD's white whale, what if the real fight is elsewhere? In contrast to the desktop market, where Intel defines the status quo, the x86 server and mobile markets represent emerging industries with special kinds of requirements — a scene seemingly tailor-made for an upstart like AMD.
64-Bit Is Your Friend
AMD's first beachhead will be the 64-bit Opteron server chip, due in April. In effect, the Athlon 64 will ship earlier for servers than for desktops. Several factors could make Opteron an extremely important product.
First, unlike in the desktop sector, AMD will not have to sell the benefits of 64-bitcomputing in the server market. Many server applications, such as large databases, already use 64-bit capabilities. In fact, Intel's Itanium seems to have left a market niche open by ditching x86 instructions, leaving Linux lovers looking for an x86-compatible chip.
Second, the emerging market for cheap, Intel-based "blade servers," seems to cry out for a low-priced alternative to Intel's Xeon line. Analysts believe the Opteron will list for US$1,000 and sell at $400 to $500, which compares favorably with Xeon.
We Have Our Own Ideas
"Opteron is an excellent candidate for blade servers," Microdesign general manager Kevin Krewel confirmed in an interview with the E-Commerce Times. "On the desktop, 64-bit computing will be a novelty, but on the server there could be real practical benefits for integer applications, such as secure sockets layer [for Web servers]." He noted that unlike Transmeta's Crusoe, which has shipped on blades from such companies as RLX Technologies, Opteron offers the prospect of cheap dual-processing blades.
Oddly enough, AMD is officially cool to the prospect. AMD server marketing manager Scott Gude told the E-Commerce Times that the company intends to bring 64-bit computing to data centers for enterprise customers who have stuck with 32-bit, given the cost and complexity of Itanium. AMD has announced no system vendors for Opteron, but it intends to build on its success in high-performance computing, again putting it head to head with Itanium.
Yet, by most accounts, blade servers are where the health is, compared with a general decline in shipments for high-end servers. It will be interesting to see if AMD eschews a promising market in blade servers to once more challenge Intel head on.
Moving Target
In the mobile arena, by contrast, AMD seems to have crafted a nuancedstrategy that may help it steer clear of Intel's Centrino. But despite growing its market share respectably last year, the company is late to the party.
"There's been very little differentiation to their products aside from price," Shane Rau, a mobile chip analyst with IDC, told the E-Commerce Times. "AMD lost a lot of opportunity to gain share in this segment by not introducing chips earlier." The chipmaker has done well, he noted, in the Asian market for consumer portables, where such vendors as Sharp and Toshiba sought a low-cost alternative to Intel.
For its part, AMD says there is more innovation and deeper strategy in its approach than most appreciate. On the one hand, the recently introduced Athlon XP-M, running at 25 watts, has what is called a microPGA package that will substantially cut power consumption, making it ideal for ultralight notebooks. At the same time, the company expects its mid-range product, running at 45 watts, will scoop up sales of thin and light notebooks while steering clear of Intel's dominance of the enterprise market.
All Pieces of the Puzzle
"We'll pick up some of the corporate business as they buy more notebooks, but that's only 15 percent of the overall market," AMD mobile brand manager Frank Varela told theE-Commerce Times. He admitted that lack of business withDell limits AMD's appeal to large companies swapping out desktops for notebooks. "Our focus will be thin and light [notebooks]," he said, referring to machines with an optical drive but no floppy that weigh three or four pounds. "Our 2500+ part will outperform Intel on power management, and we'll be very cost competitive with Centrino when you break out the processor itself."
Maybe, say analysts. "They just need more design wins with U.S. original equipment makers," IDC's Alan Promisel told the E-Commerce Times, adding the market is young enough still that vendors can stake claims. AMD says it soon will have a win in hand with Hewlett-Packard, and Promisel conjectures that AMD's parts also could gain market share in the so-called "transportables" arena. Transportables are a kind of cheap desktop replacement in the form of a heavy nine- or 10-pound notebook (remember "luggables"?).
AMD finds itself at the beginning of 2003 cautiously staking out a stealth position in notebooks. To win this year, however, it is clear that Opteron also must be a success. As Microdesign's Krewel said, "From a financial standpoint, Opteron is by far essential for AMD's overall health."