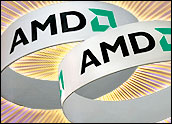 Advanced Micro Devices (AMD) will reduce hiring and cut other expenses in response to a first-quarter revenue miss, a likely sign that larger rival Intel has regained the upper hand in recent months.
AMD expects to report first quarter revenue of US$1.225 billion, significantly below the $1.5 billion being called for by Wall Street analysts who follow the Sunnyvale, Calif.-based company. The figure is also well below the original target of $1.6 billion to $1.7 billion AMD had set when it announced fourth quarter results.
The chipmaker said revenues "declined sharply" in its computing solutions division, which sells to PC makers and cited "lower overall average selling prices and significantly lower unit sales."
AMD is working on plans to restructure its business model to boost efficiencies and lower costs, the company said. The plan calls for a significant reduction in "discretionary expenses" and new hiring will be limited to "critical positions." As much as 5 percent of the company's workforce could be cut through attrition and other means.
AMD will further detail its plans when it releases full details of its first quarter results on April 19, the company said.
Lower Capital Costs
Shares of AMD were up sharply on the news, rising nearly 4 percent in morning trading Monday to $13.32. Still, that price is a fraction of the $35.75 price the stock hit last spring when it appeared AMD was wrestling market share away from Intel.
AMD already warned on the quarter back in early March, when it said it was "unlikely to meet" expectations. At the time, analysts speculated that price-cutting moves by Intel were among the culprits. AMD's announcement Monday seemed to confirm that suspicion, with the company saying it saw both lower prices for its PC chipsets and lower demand in the reseller space.
While Intel had faltered sometime early in 2006, enabling AMD to make up some ground, Intel turned things around and was able to better control costs, Gartner analyst Martin Reynolds told the E-Commerce Times.
As a result, it may have been able to cut prices on some chipsets even as it rolled out new products. Intel also has a more diversified revenue stream than AMD, selling chips to more device makers, which helps smooth out any slowdowns in the PC market.
Evidence is growing that fewer personal computers were sold early in the first quarter as buyers awaited the availability of Windows Vista and that sales of machines loaded with Vista have been below some forecasts. In result, PC makers may be ordering fewer chips to avoid having large inventories of unsold machines. Gartner already lowered its chip sales forecast for the year.
Among the cost savings sought by AMD will be reduced capital expenditures, which the company will cut by around $500 million for 2007. Such reduced investments in future capacity and research and development of next-generation products could have long-term implications for the AMD-Intel battle.
Trouble Ahead?
There has been relatively little good news for AMD in recent quarters. In its fourth quarter, the company posted a $500 million loss, due in large part to its acquisition of graphics chips maker ATI.
Looking forward, another factor that may limit AMD's ability to gain back recent losses is a relatively small number of new products due to be rolled out to the market. The Barcelona line of server chips is expected to gain traction, in part because AMD's Opteron line was hugely successful for the company.
Meanwhile, analysts will be watching Intel closely for signs that AMD's woes are a sign of a larger malaise in the chip sector. Computer chips are often seen as a bellwether of future technology sector performance, since chipmakers start to see fewer orders and often resort to price cuts to reduce inventory when demand for new servers and PCs starts to lag.
That connection has begun to fray in recent years, however, as microprocessors are now found in a range of devices other than computers — from cell phones and cameras to televisions and portable music players.
Fierce Competition
Still, overall chip sales were down 6.5 percent in February compared to January, and while they were up year-over-year, revenue for the entire industry was down $1 billion in February from the month before, according to the Semiconductor Industry Association.
Lower average selling prices indicate a desire to sell down inventory, SIA President George Scalise told the E-Commerce Times, citing "fiercely competitive market conditions" in many sectors, including the core microprocessors that run PCs, which saw a 15 percent drop in prices.
Still, even with a larger than usual seasonal drop, sales remain ahead of the pace of 2006, which saw record annual sales, he added.